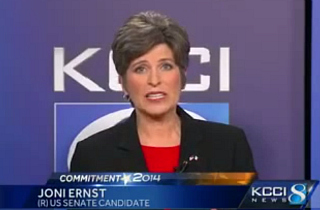 Today, the vast majority of the internet fell for a fake news story in which Sen. Joni Ernst (R-IA) purportedly claimed that she believed vaccines caused people to become liberal and called on Congress to ban them.
The article, passed around on a site called Examiner.com.co (remember that), claimed that Sen. Ernst told Mike Shell, a conservative radio host in Des Moines, Iowa, that she hasn't "seen any evidence that shows vaccines make us healthier," and that vaccines can "manipulate brains."
As proof, Ernst, who claimed she was not vaccinated, compared herself to a classmate from her town who did get inoculated. "We're practically the same, right?" she said. "But he's a liberal democrat. He voted for Obama both times and he has a Hillary Clinton sticker on his pickup truck. He supports welfare and the gays. I'm not saying the vaccinations made him more liberal, but the vaccinations made him more liberal, do you get what I'm saying?"
Numerous Real Journalists began tweeting out the link to the story, generating hundreds of other outraged tweets. But guess what, guys: the article came from National Report, notorious for its bad satire and propensity to fool people into believing hoax stories. By extension, this means that Mike Shell is not a real pundit, Sen. Ernst never claimed that vaccines turn people liberal, and please stop sharing that story.
Normally, this is the part where we repeat, over and over again, that anything from National Report is a hoax and that everyone should stop falling for them. (We've done this many times in the past.) But this incident is especially notable, since the link being passed around goes to an aggregation site that exclusively posts content from National Report, with a domain name registered in Colombia, whose URL is suspiciously similar to an actual news site. ("This website is in no way affiliated with http://examiner.com," a disclaimer on the site reads. "All content contained within has been reposted with the express written consent of the copyright holder.")
Our theory, given that Facebook is cracking down on fake news sites that disseminate hoax stories, is that those sons of dogs at National Report created a shell site.
[Examiner.com.co]
[Image via screenshot]
—
>> Follow Tina Nguyen (@Tina_Nguyen) on Twitter
Have a tip we should know? tips@mediaite.com