Notable Actor Begs Lorne Michaels to Play Trump Advisor Stephen Miller on SNL: 'Pleeeease'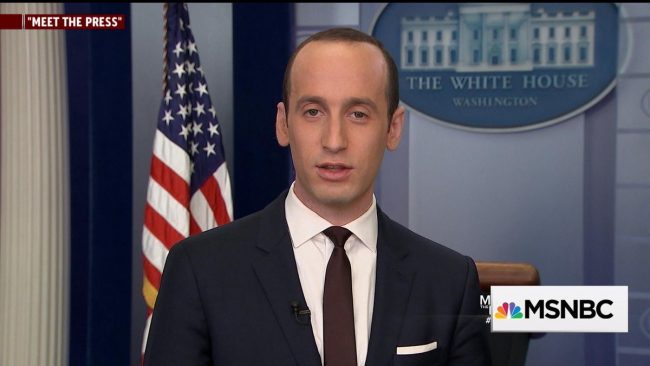 By now it is well-documented that Rosie O'Donnell has been keen to portray Steve Bannon on Saturday Night Live after the actress changed her Twitter profile picture to resemble the former Breitbart editor turned White House advisor. The move was largely seen as a joke, but regardless, speculation began to swirl about what other notable actors could be brought in to play members of the Trump Team, especially after Melissa McCarthy stole the show recently as press secretary Sean Spicer.
And today we can officially add one more actor to that list longing for some Studio H airtime: Zach Braff, of Scrubs and Garden State, who bears a loose resemblance to senior advisor Stephen Miller. Miller has earned widespread rebuke for his round of Sunday show appearances this weekend, where he defended the administration's attacks against the judiciary. "We do not have judicial supremacy in this country," Miller said yesterday, going as far as to decree in an authoritarian tone that "The powers of the president to protect our country are very substantial and will not be questioned."
In response, Braff took to Twitter with a direct plea to Lorne Michaels of Saturday Night Live:
Dear Lorne, I will shave my head to play this guy. Pleeeease. @nbcsnl pic.twitter.com/60p0TEPh7N

— Zach Braff (@zachbraff) February 13, 2017
Despite O'Donnell's mocking tone last week with her photo change, she did not show up to play Bannon on SNL this past weekend (though SNL staple Kate McKinnon did make an appearance as Attorney General Jeff Sessions, likely a nod to reports that Trump was personally offended at the suggestion of his staff being portrayed by women on the show). Of course, the show really doubled down on the report, tapping Leslie Jones to play POTUS himself in one sketch.
So, will Braff get the nod for an appearance at 30 Rock? We'll have to wait a bit to find out; the show is on temporary hiatus until March 4th, when it returns with a brand new episode hosted by Octavia Spencer.
Have a tip we should know? tips@mediaite.com