Well, It Appears Brit Hume's Twitter Account Has Also Been Hacked By Pro-Turkish Hackers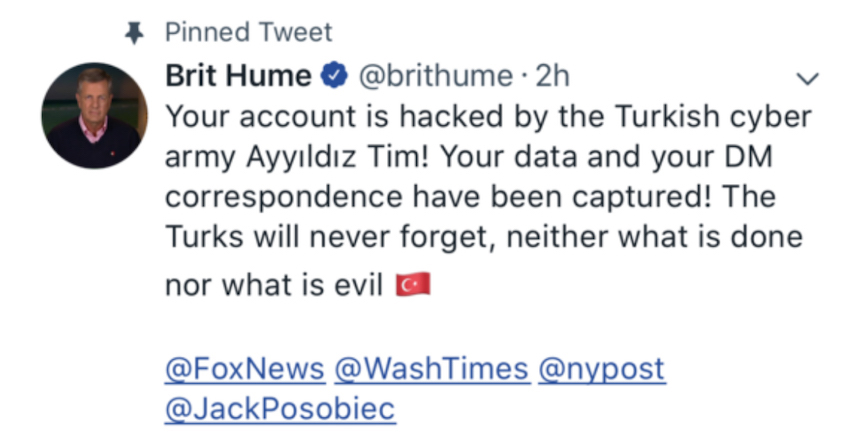 Brit Hume is having a rough week on Twitter. First, he tweeted out this rather bizarre sentiment, announcing that he did not care to hear any details about President Donald Trump's penis, and now it appears his entire account has been hacked.
The Twitter takeover appears to have been undertaken by Pro-Turkish hackers, the third time this week a Fox News-affiliated personality has been targeted in a similar manner, with former Fox hosts Greta Van Susteren and Eric Bolling suffering similar fates on Tuesday.
Hume's hack followed the same M.O., with pronouncements of support for Turkish President Recep Tayyip Erdoğan.
"To me, the Turkish army is the strongest army; because they are fighting not only with arms but with determination and determination with faith," a tweet read, with another suggesting that the hackers had captured Hume's direct message history.
"Turks will never forget, neither what is done nor what is evil."
The hackers have not been identified, nor has anyone been able to figure out why, exactly, they continue to do this, though it has been suggested that accounts belonging to Fox News personalities could be used to message President Trump.
Well, it looks like Hume has likely had enough with this whole social media nonsense. After this latest debacle, the Fox News anchor's account has been deleted. Thanks a lot, Turkish hackers!
[image via screenshot]
—
Follow Lawrence Bonk (@sidescrollers) on Twitter
Have a tip we should know? tips@mediaite.com