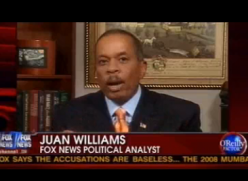 NPR has terminated the contract of long-time contributor Juan Williams over remarks he made on the O'Reilly Factor last night. On Monday night's O'Reilly Factor Williams weighed in on Bill O'Reilly's now infamous View appearance (watch the video below).
Well, actually, I hate to say this to you because I don't want to get your ego going. But I think you're right. I think, look, political correctness can lead to some kind of paralysis where you don't address reality.

I mean, look, Bill, I'm not a bigot. You know the kind of books I've written about the civil rights movement in this country. But when I get on the plane, I got to tell you, if I see people who are in Muslim garb and I think, you know, they are identifying themselves first and foremost as Muslims, I get worried. I get nervous.
NPR's media reporter David Folkenflik broke the news on Twitter. Read from the bottom up:
# Williams also warned Fox host Bill O'Reilly agst blaming all Muslims for "extremists," saying Christians shouldn't be blamed for Tim McVeigh 14 minutes ago via web

Here's a link to Williams' most contentious remarks in which he said he was "nervous" seeing Muslim airline passengers http://huff.to/b06b9B 16 minutes ago via web

The decision by NPR follows strong criticism for remarks on Fox suggesting he feared passengers in Muslim garb when boarding aircraft. 19 minutes ago via web

NPR statement on terminating Wms contract says his remarks abt muslims on Fox News "undermined his credibility as a news analyst w NPR" 21 minutes ago via web

NPR: "Juan has been a valuable contributor…. However his remarks on the O'Reilly Factor … were inconsistent w/our editorial standards" 22 minutes ago via web

#NPR terminates contract of longtime analyst Juan Williams for comments made on Fox News about Muslims. More to come. 25 minutes ago via web
Video below of Williams' appearance on O'Reilly. On a personal note, despite the ill-conceived remarks (especially in this loaded media and political cycle) I happen to be a longtime fan of Williams' analysis on NPR and could not be more sorry to see him let go. As the NYT points out Williams dual role on Fox News and NPR has caused friction before, but I have always felt his presence on both somehow lent a certain credibility to both, and not vice verse.
Meanwhile, it's hard not to wonder whether the more beneficial, more considered, altogether more NPR thing to do here would have been to devote a segment of Morning Edition, or Weekend Edition, or All Things Considered to having Williams explain just what the hell he was talking about. At least that would have provided a forum for intelligent conversation on the matter, something that is desperately lacking at the moment. Apparently not. Instead it seems that, along with CNN's dismissal of Octavia Nasr earlier this year for an ill-thought-out tweet, this is merely further proof that no matter how long and respectable your career all it takes is one idiotic soundbite to do you in.
Morning Update: Here's NPR's story on Williams.
Update again: Richard Prince provides a more comprehensive look at Williams' career.
Have a tip we should know? [email protected]