NRA Quits Working With W.H. After Meeting, Laments Their 'Agenda To Attack The 2nd Amendment'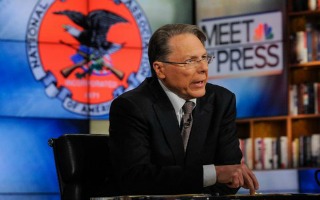 The National Rifle Association issued a less than encouraging statement after meeting with Vice President Joe Biden for a roundtable discussion on new measures that the federal government might take to limit future gun deaths and mass shootings. The NRA's tersely worded statement attacked the motivation behind the White House's summit and expressed "disappointment" in the Obama administration's "agenda to attack the Second Amendment."

RELATED: Right To Bear Harms: Vice President Joe Biden To Meet With NRA On Gun Violence Thursday
The NRA, which was invited to and participated in today's summit, said in a post-meeting statement that they continue to be committed to supporting meaningful measures that may reduce future incidences of gun violence. However, they said that none of the proposals they support were on the table at today's meeting.
"We attended today's White House meeting to discuss how to keep our children safe and were prepared to have a meaningful conversation about school safety, mental health issues, the marketing of violence to our kids and the collapse of federal prosecutions of violent criminals," read the NRA Statement. "We were disappointed with how little this meeting had to do with keeping our children safe and how much it had to do with an agenda to attack the Second Amendment."
It is unfortunate that this Administration continues to insist on pushing failed solutions to our nation's most pressing problems. We will not allow law-abiding gun owners to be blamed for the acts of criminals and madmen.
The NRA says that they will now move on from working with the White House to members of Congress from both parties "who are interested in having an honest conversation about what works – and what does not."
Read the full statement via the NRA's Institute for Legislative Action
Watch the interview of the NRA's President, via CNN below:
> >Follow Noah Rothman (@Noah_C_Rothman) on Twitter
Have a tip we should know? tips@mediaite.com