NY City Police Official: We Will Sue Any Occupy Wall Street Protester Who Hurts An Officer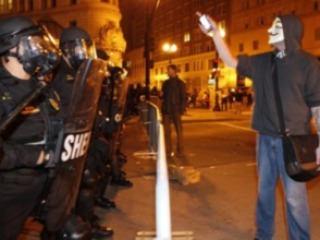 The recent violent confrontations between law enforcement officials and protesters in Oakland, Times Square, and elsewhere have captured the media's attention and provided ample discussion fodder for both the movement's supporters and detractors. But it seems that, while we've been privy to coverage as presented through the filter of the infotainment media and the protesters, we've yet to hear from those within or representing law enforcement.
That's changed: Now, Ed Mullins, president of the New York City Sergeants Benevolent Association, has taken time to respond to this violence in a New York Post op-ed piece. In the midst of reports on the protests, he writes, not much has been mentioned about the fact that at least 20 officers have been injured by what he describes as "flare-ups with protesters whose actions are becoming increasingly hostile and aggressive."
Moreover, he believes the demonstration itself has devolved into "police bashing:"
What started out as a protest against corporate greed has turned into police bashing of the highest order, which is being done both literally and figuratively. NYPD officers have been working around the clock to maintain peace. The last thing any of us want is to be in the line of fire, but we take seriously our oath to uphold the law.

We are trained to be tolerant of verbal assaults, but we are not expected to engage in street fights with professional agitators or stand idly by as we are pelted with bottles, rocks or other debris. For that reason, I ordered our attorneys to prepare to personally sue any protester responsible for injuring an NYPD sergeant.
Rather than simply take time to air out his grievances, Mullins also offers to put his money where his mouth his. "I assure anyone," he writes, "who dares to attack an NYPD sergeant that the long arm of the law will extend far beyond the criminal-justice system, as we will do whatever it takes in seeking civil redress."
h/t NY Post
Have a tip we should know? tips@mediaite.com