NY Daily News Insincerely Links Trayvon To Emmett Till On Racially Inflammatory Front Page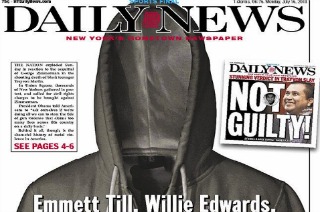 "Emmitt Till. Willie Edwards. James Chaney. Michael Donald. Michael Griffith. Yusef Hawkins. James Byrd Jr. Trayvon Martin. When Will It End?" The New York Daily News front page on Monday morning is both powerful and inflammatory. The image of an empty hoodie links Martin's death to the 1955 killing of Till for the supposed "crime" of flirting with a white woman. One can take heart though in the fact that, based on the Daily News' measured editorial on the case, the paper is just whipping up racial resentment to sell copies.

"Jury's decision unsatisfying but respectable given the circumstances," reads the NYDN editorial headline published minutes after the verdict of not guilty was announced late Saturday night. This conclusion contrasts starkly with the declaration of resistance in the face of naked injustice printed on Monday's front page: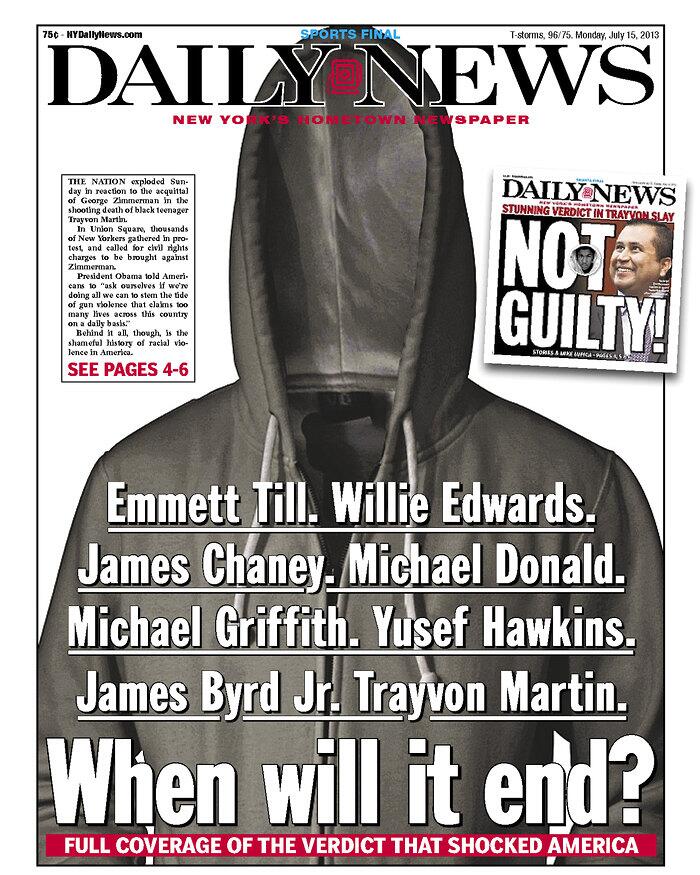 "Although Zimmerman bears moral guilt for the killing of Trayvon Martin, the prosecution fell short of establishing beyond a reasonable doubt the 'ill will, hatred, spite or an evil intent' necessary for second-degree murder under Florida's penal code," the editorial's abstract reads.
RELATED: From Serious to Sensationalism: Zimmerman Trial Shows Where Journalism Has Gone Since O.J.
While he bears terrible responsibility for irresponsibly precipitating the fatal incident with Martin, the jury's focus was necessarily limited to what he did and why in their last moments together — not on what led to the fatal shot, not on the initial failure of Sanford authorities to prosecute Zimmerman, and not on the racial passions stirred by the shooting death of an unarmed black teenager who had been falsely profiled as a criminal.
Clearly, the tone of the editorial indicates that they believe Zimmerman guilty of a horrible moral crime – the editorial board may even believe that a federal charge against Zimmerman for violating Martin's civil rights may be in order – but they make it clear that the jury made the responsible call in this case.
How does that square with the Daily News cover linking George Zimmerman's acquittal with that of Till's murderers – in spite of the overwhelming evidence indicating that they were guilty, including a post-trial interview in which the two killers confessed to their crime? It doesn't. But it's a great way to irresponsibly gin up hatred and sell newspapers.
> >Follow Noah Rothman (@NoahCRothman) on Twitter
Have a tip we should know? tips@mediaite.com