Donald Trump Jr., Campaign Aides Met With Kremlin-Linked Lawyer During Campaign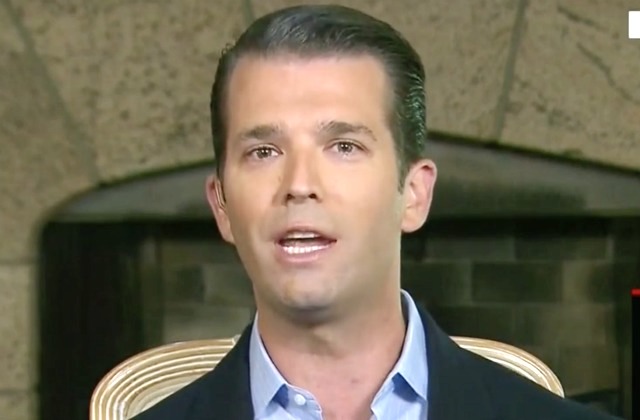 The NY Times is reporting that senior Trump officials met with a Kremlin-affiliated lawyer approximately two weeks after Donald Trump became the GOP's presidential candidate for 2016. Most notably, this marks the first time that the President's son Donald J. Trump Jr. is known to have been involved in such a meeting.
According to government records cited by The New York Times, Donald Trump Jr., Paul Manafort and Jared Kushner all participated in a discussion with the Russian lawyer eleven months ago. Spokespeople for Kushner and Trump Jr. confirmed that the meeting took place, and as the Times notes, this is "the first confirmed private meeting between a Russian national and members of Mr. Trump's inner circle during the campaign."
The president's son offered a statement, saying the meeting revolved around a Russian adoption program. While Trump Jr. says government policy was never invoked during the discussion, his remarks somewhat contrast a previous Times interview where he said he never met Russian officials in a campaign capacity.
From the Times:
Donald J. Trump Jr. had denied participating in any campaign-related meetings with Russian nationals when he was interviewed by The Times in March. "Did I meet with people that were Russian? I'm sure, I'm sure I did," he said. "But none that were set up. None that I can think of at the moment. And certainly none that I was representing the campaign in any way, shape or form."

Asked at that time whether he had ever discussed government policies related to Russia, the younger Mr. Trump replied, "A hundred percent no."
Trump continues to face questions connected to the ongoing investigations into Russian meddling with the 2016 election. The president met Vladimir Putin during the G20 Summit in Germany this week, though Trump is currently taking flak for apparently accepting Putin's denial of any wrongdoing.
UPDATE – 8:40 p.m. EST: Trump Jr. addressed the meeting in a statement to Fox News.
"It was a short introductory meeting. I asked Jared and Paul to stop by. We primarily discussed a program about the adoption of Russian children that was active and popular with American families years ago and was since ended by the Russian government, but it was not a campaign issue at that time and there was no follow-up…I was asked to attend the meeting by an acquaintance, but was not told the name of the person I would be meeting with beforehand."
UPDATE – 9:08 p.m. EST: NBC's Hallie Jackson tweeted a statement from Trump's outside legal team, which insists that the meeting was a setup by Democrats.
NEW: spox for POTUS outside legal team casts mtg as part of oppo effort. Source close to team calls it "poss. setup by Russian operatives" pic.twitter.com/1Y145Ooag8

— Hallie Jackson (@HallieJackson) July 9, 2017
[Image via screengrab]
— —
>> Follow Ken Meyer (@KenMeyer91) on Twitter
Have a tip we should know? tips@mediaite.com