NY Times Editor Jill Abramson: Obama White House the 'Most Secretive' I've Ever Dealt With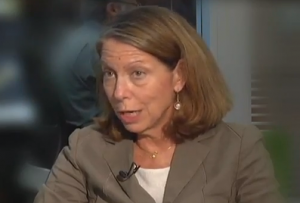 New York Times editor Jill Abramson sat down for an in-depth interview with Al Jazeera America recently. She discussed issues ranging from Edward Snowden to the the future of the print industry, but in perhaps the most candid moment of the interview, Abramson admitted that of all the White Houses she's ever dealt with, the Obama administration is hands-down the "most secretive" thus far.
Abramson did not weigh in on the Times editorial calling for Snowden to receive clemency, but when asked how the Obama administration ranks in its relationship with the press compared to other administrations, Abramson was very blunt and drew a direct contrast between Obama's White House and George W. Bush's.
I would say it is the most secretive White House that I have ever been involved in covering, and that includes — I spent 22 years of my career in Washington and covered presidents from President Reagan on up through now, and I was Washington bureau chief of the Times during George W. Bush's first term.

I dealt directly with the Bush White House when they had concerns that stories we were about to run put the national security under threat. But, you know, they were not pursuing criminal leak investigations. The Obama administration has had seven criminal leak investigations. That is more than twice the number of any previous administration in our history. It's on a scale never seen before. This is the most secretive White House that, at least as a journalist, I have ever dealt with.
She agreed that this ends up making it more difficult for the paper to do its job. Abramson also name-checked Times reporter James Risen, who had been spied on by federal investigators over a leak investigation into who provided information to him about a CIA attempt to throw a wrench in Iran's nuclear program.
[h/t HuffPost]
[photo via screengrab]
— —
Follow Josh Feldman on Twitter: @feldmaniac
Have a tip we should know? tips@mediaite.com
Josh Feldman - Senior Editor