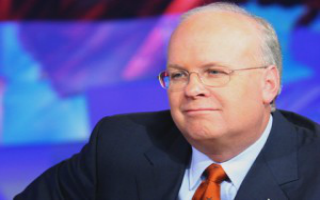 In the days that followed Karl Rove's on-air confrontation with Fox News Channel's decision desk on election night after the critical swing state of Ohio was called for President Barack Obama, it seems that just about every media critic has weighed in on what they thought that moment meant for FNC, Super PACs, the Republican party and the American experiment in democracy itself. In a piece in the New York Times on Thursday, they note in a blaring headline that Rove's role as a Fox News analyst and contributor is being "questioned" by the network's decision makers, but they provide no evidence that anyone at Fox News is doing any such thing.

RELATED: Karl Rove Causes Fox News Chaos By Challenging Obama Victory Projection
"Rove's on-air rebuttal of Fox's Ohio vote call raises questions about his role," reads the provocative headline in today's New York Times. But, just like the famously misleading "let Detroit go bankrupt," the body of the piece is not nearly as dramatic as the blaring title suggests.
The Times quotes an FNC executive who thought it would be informative to let Rove, who is intimately familiar with the consequences of an early state call in a presidential election, explain why he thought calling the Buckeye State for Obama was premature:
"The first thing that came to my mind, the first thing burned in everyone's mind, is Florida 2000," said Michael Clemente, the Fox News executive vice president for news. "And the minute you hear, 'Hold the phone,' you sort of get that oh-my-goodness feeling."

So Mr. Clemente, who was one floor up in the control room, decided with his team of producers to allow Mr. Rove to say on television what he was finding and hearing from the Romney campaign: that the numbers coming out of Ohio were not necessarily adding up to an Obama victory.
The Times piece notes that the "more polished" Fox reporter Chris Stirewalt joined Megyn Kelly shortly after Rove objected to their Ohio call to explain why their judgment was not only appropriate but would not be reversed.
Conspiracy theories abound about the motivation behind Rove's objection to Fox's Ohio call on Tuesday night – particularly due to his links to the pro-Republican PAC American Crossroads. Perhaps he was under pressure from the Romney camp, or he was thinking about the thousands of unhappy donors who were sure to reach out the next morning to ask Rove what he got them for their millions in donation to losing GOP candidates. But that is all they are: theories.
There is a debate to be had about the ethics of having a Republican advisor as a paid contributor on a cable news network (half the stable of commentators on CNN, MSNBC and Fox would have to revisit their contracts), but no such debate is illuminated in this Times piece that suggests there is internal conflict in Fox about Rove's role at the network
> >Follow Noah Rothman (@Noah_C_Rothman) on Twitter
Have a tip we should know? tips@mediaite.com