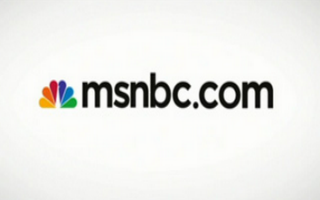 In the New York Times on Friday, TV Watch reporter Alessandra Stanley chronicles a shift in the editorial tone of MSNBC's political coverage that has embraced a strong, left-leaning editorial voice. She notes that MSNBC's lineup has shifted more towards the liberal end of the political spectrum recently in order to emulate the success of Fox. Tough that effort has been largely successful, Stanley writes that it could endanger NBC's broadcast news outlet's credibility.
RELATED: Matthews Battles With MSNBC Co-Hosts Over Whether GOP Is 'Attacking Teachers'
"You can agree with everything that Rachel Maddow or Ed Schultz say on MSNBC and still oppose their right to say it," Stanley opens her piece. She notes that MSNBC has opted to emulate Fox News Channel's point of view programming performing editorial journalism for a like-minded audience, and their ratings improvement in recent months shows the formula works.
However, she says the left-leaning cable news network's editorial voice could imperil NBC News' reputation as being impartial and unbiased.
"All that arch sarcasm and partisan brio may rev up the cable channel's fans, but it constrains — and stains — NBC News, its corporate sibling, which is still the country's No. 1 source in the evening," Stanley writes. She notes that the few crossover appearances that NBC News personalities, like David Gregory and Tom Browkaw, do make could imperil their brand as neutral journalists.
Stanley praises Maddow, but she is one of the few MSNBC anchors she finds deserving of plaudits. "MSNBC has a growing cast of anchor-bloviators — hosts like Martin Bashir, Tamron Hall and, of course, Al Sharpton, who rant and then invite like-minded guest commentators to assure them that they are right."
Stanley writes that Chris Matthews, who hosts a Sunday news program on network television on top of his daily MSNBC show, has recently engaged in a conspicuous effort to outdo his colleagues in the bloviating department.
He started with a bruising harangue against Reince Priebus, the Republican National Committee Chairman, that made even his hosts on "Morning Joe" wince. Mr. Matthews looked almost thuggish on Wednesday night when the Arizona governor, Jan Brewer, 67, speaking from the din of the convention floor, complained she couldn't hear his question.

"You can't hear me?" he said. "Well, that's convenient."

On Thursday, Mr. Matthews fulminated against Paul Ryan's — admittedly misleading — assertion that Mr. Obama did nothing to prevent the closing of a GM plant in 2008. Then Fox News attacked media figures who attacked Mr. Ryan. CNN took the harder course of parsing the entire issue: The correspondent Tom Foreman gave a long, industrious analysis that explained where and how Mr. Ryan finessed the facts.
Read the full article at the New York Times
> >Follow Noah Rothman (@Noah_C_Rothman) on Twitter
Have a tip we should know? tips@mediaite.com