NY Times Produces Audio of Trump Endorsing Tariff He Swears He Never Endorsed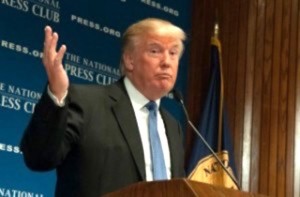 One of the more bizarre moments during Thursday's Fox Business Republican debate was when moderator Neil Cavuto asked Donald Trump about a quote he had given The New York Times, only for Trump to deny he had ever said it.
"Last week, The New York Times editorial board quoted you as saying that you would impose 'up to 45 percent tariff on Chinese goods…'" Cavuto began.
"That's wrong," Trump cut in. "They were wrong. It's The New York Times, they are always wrong."
"What I said to The New York Times, is that we have great power, economic power over China and if we wanted to use that and the amount — where the 45 percent comes in, that would be the amount they saw their devaluations that we should get. That we should get," Trump told a very confused Cavuto.
But in response The New York Times released the audio of their editorial meeting with the candidate, in which Trump certainly does endorse a 45 percent tariff on Chinese goods.
I would tax China coming in, products coming in. A tariff, I would do a tariff and they do it to us. You have to be smart. I'm a free trader, I'm a free trader, and some of the people would tell you 'oh it's terrible.' I'm a free trader.

I love free trade, but it's gotta be reasonably fair. I would do a tax. And let me tell you what the tax should be, the tax should be 45 percent. That would be a tax that would be an equivalent to some of the kind of devaluations that they've done. They cannot believe that we haven't done this yet.
Listen above, courtesy of The New York Times.
[Image via screengrab]
——
>>Follow Alex Griswold (@HashtagGriswold) on Twitter
Have a tip we should know? tips@mediaite.com