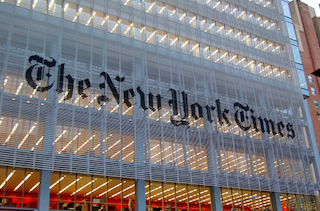 New York Times Public Editor Margaret Sullivan retracted her criticisms over the Times' early Ferguson reporting Monday morning, calling her initial critique "substantially flawed."
Sullivan's retraction follows the Department of Justice's report earlier this month essentially vindicating officer Darren Wilson's side of the story in the shooting of Michael Brown. The report concluded that Brown did not have his hands raised when Wilson shot him, undercutting the subsequent "hands up, don't shoot" slogan adopted by Ferguson protesters.
Sullivan's is the second retraction, after Washington Post columnist Jonathan Capehart retracted his earlier columns on Ferguson last week.
RELATED: NYT Public Editor: Calling Michael Brown 'No Angel' Was 'Regrettable Mistake'
In her initial piece last August, Sullivan had criticized the attempt at "false balance" — the attempt to present both sides when they are unequal — and the "dubious equivalency" of using anonymous quotes from the Ferguson Police Department alleging that Wilson had been scared of Brown just before the shooting. Sullivan, who has an axe to grind over the Times' use of anonymous quotes, called the sourcing weak, with the anonymous quotes lifted from "ghosts."
She retracted that Monday morning. "In retrospect, it's clear to me that including that information wasn't false balance. It was an effort to get both sides," Sullivan wrote. She added:
I still believe, as I did then, that the description of the sourcing was confusing. But that's a relatively minor issue, and understandable in the rush of breaking news. The main thing is that The Times did its job in describing what were indeed "conflicting reports," and getting them on the record in whatever way was possible at the time. That served readers well.
The August post now has update at the top of the article.
[h/t New York Times]
[Image via Wikipedia]
——
>> Follow Evan McMurry (@evanmcmurry) on Twitter
Have a tip we should know? tips@mediaite.com