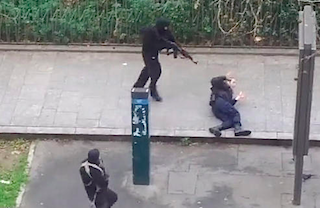 The New York Times, which has already faced criticism for its decision not to publish images of the controversial Charlie Hebdo cartoons that may have provoked the attack on that magazine's Paris offices Wednesday, is now under fire for apparently removing a quote from an article about reactions from survivors of the attack.
Earlier today, the website Ace of Spades posted this excerpt from a story by reporter Liz Alderman about the shooting as experienced by those who survived it:
Sigolène Vinson, a freelancer who had decided to come in that morning to take part in the meeting, thought she would be killed when one of the men approached her.

Instead, she told French news media, the man said, "I'm not going to kill you because you're a woman, we don't kill women, but you must convert to Islam, read the Quran and cover yourself," she recalled.
But as The Daily Caller pointed out Thursday afternoon, the Times has since changed that passage to read like this:
Sigolène Vinson, a freelance journalist who had come in that morning to take part in the meeting, said that when the shooting started, she thought she would be killed.

Ms. Vinson said in an interview that she dropped to the floor and crawled down the hall to hide behind a partition, but one of the gunmen spotted her and grabbed her by the arm, pointing his gun at her head. Instead of pulling the trigger, though, he told her she would not be killed because she was a woman.

"Don't be afraid, calm down, I won't kill you," the gunman told her in a steady voice, with a calm look in his eyes, she recalled. "You are a woman. But think about what you're doing. It's not right."
Gone is the quote from Vinson that mentions converting to Islam, reading the Quran and covering her face. These is no update or correction on the article pertaining to this change. The source of that quote, where it still remains, is a story from Radio France Internationale.
Here is the rough translation of the French as it appears on RFI's website:
Moments after the tragedy, Sigolène Vinson was speaking to RFI. "I am Sigolène, I am alive. But this is horrible, there are dead [tears]. "If Sigolène Vinson is still alive, it is because she is a woman. One of the attackers said: "We do not kill women, but you have to convert you to Islam and conceal you," before shouting "Allah Akbar".
Of course, even if Vinson's account is accurate, it does not explain why she was spared. There was one female among the 12 victims in Wednesday's attack: Elsa Cayat, an analyst and columnist for the magazine.
We have reached out to the Times reporter who filed the story and will update this post with an explanation for why the quote was removed if we receive a response.
[Photo via screengrab]
— —
>> Follow Matt Wilstein (@TheMattWilstein) on Twitter
Have a tip we should know? tips@mediaite.com