NY Times Report: Roger Ailes Allegedly Encouraged Judith Regan to Lie to Feds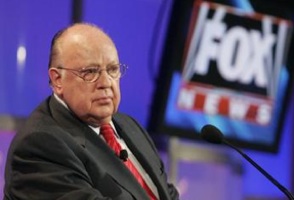 Did Roger Ailes encourage publishing luminary Judith Regan to lie about her reported affair with former NY Police chief (and longtime Giuliani ally) Bernard Kerik? So claims an explosive report in today's NY Times. The report alleges that unsealed documents reveal Ms. Regan recorded the phone call in which Ailes talks about the illicit affair, and suggests that the existence of a taped call may have impacted her $10 Million settlement upon leaving Harper-Collins, which (like Fox News) is also owned by News Corp.
Writing for the NY Times, Russ Buettner reports:
It was an incendiary allegation — and a mystery of great intrigue in the media world: After the publishing powerhouse Judith Regan was fired by HarperCollins in 2006, she claimed that a senior executive at its parent company, News Corporation, had encouraged her to lie to federal investigators two years before.

The investigators had been vetting Bernard B. Kerik, the former New York City police commissioner who had been nominated to become secretary of Homeland Security and who had had an affair with Ms. Regan.

The goal of the News Corporation executive, according to Ms. Regan, was to keep the affair quiet and protect the then-nascent presidential aspirations of former Mayor Rudolph W. Giuliani, Mr. Kerik's mentor and supporter.

But Ms. Regan never revealed the identity of the executive, even as her allegation made headlines and she brought a wrongful termination suit against HarperCollins and News Corporation.

But now, affidavits filed in a separate lawsuit reveal the identity of the previously unnamed executive: Roger E. Ailes, chairman of Fox News.
You can read the entire article here, as it goes on to report that a News Corp. spokeswoman did not deny that Ailes was, in fact, the previously unidentified News Corp. executive who (according to the NY Times's report of Regan's account) had privately encouraged Regan "to keep the affair quiet and protect the then-nascent presidential aspirations of former Mayor Rudolph W. Giuliani, Mr. Kerik's mentor and supporter."
The spokeswoman, Teri Everett, said News Corporation had a letter from Ms. Regan "stating that Mr. Ailes did not intend to influence her with respect to a government investigation." "The matter is closed," Ms. Everett said.
The recent reports stem from documents from a separate lawsuit, in which Regan's legal team from her original termination case had accused her of not properly paying for legal services, by firing them on the eve of the settlement. The report claims that the parties had agreed to confidentiality, but strangely, the court order for sealing the documents in question was never filed, leaving the records available for public view (!). No transcript of the audio recording was released or referenced in the report.
There are two significant questions raised by this report. First and foremost is the allegation of directing Regan to lie to federal agents, which led at least one left of center website to breathless wonder in its headlines if Ailes is guilty of breaking federal law.
The second question cuts more to the ongoing issue surrounding Fox News' coverage of political news. Or as Buettner writes:
Of course, if it were to become public, the tape could be highly embarrassing to Mr. Ailes, a onetime adviser to Richard Nixon whom critics deride as a partisan who engineers Fox News coverage to advance Republicans and damage Democrats, something Fox has long denied. Mr. Ailes also had close ties with Mr. Giuliani, whom he advised in his first mayoral race. Mr. Giuliani officiated at Mr. Ailes's wedding and intervened on his behalf when the Fox News Channel was blocked from securing a cable station in the city.
While the breaking of federal law seems to be something of a reach, perhaps the bigger charge is that Ailes was knee-deep in helping a Giuliani candidacy for President in 2007. However, if Ailes is in fact the omnipotent political operator that his critics claim, how did the Giuliani campaign go so horribly awry? You will recall that he spent $55 Million in campaign funds, which only generated one electoral vote.
Roger Ailes is widely regarded as a cunning media genius (who uses his powers for good or bad depending on one's political beliefs.) To ask someone to lie to a federal agent over the phone, as these documents reportedly allege, does not add up if one follows Occam's Razor (the notion that the simplest answer is often correct.)
Its always important to remember that these are allegations, and while the Times meets the burden of journalism, their report doesn't constitute proof.
Have a tip we should know? tips@mediaite.com