NY Times Reports That Rep. Weiner Is Telling Friends He's Resigning From Office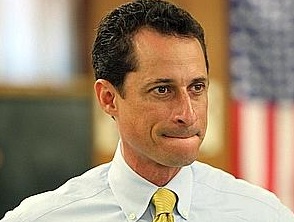 The NY Times is reporting via Twitter that Rep. Anthony Weiner has told friends he is planning on stepping down from Congress. If true, this marks perhaps the final chapter of Weiner's political career – a career that has been severely tarnished in the so-called "Weinergate" scandal that began Memorial Day weekend after he accidentally Tweeted a lewd image he had meant to send as a Direct Message to a Twitter follower. Weiner made matters worse by lying to his constituents and the press in a bald-faced and indignant manner.
Update: NBC's Chuck Todd just confirmed Weiner's plans.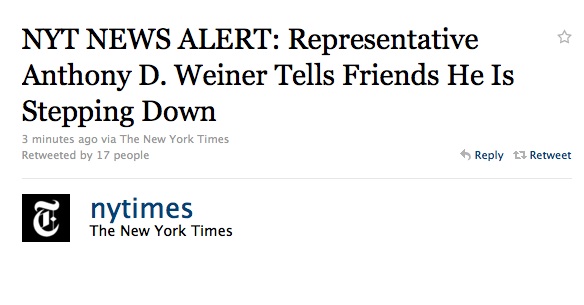 Under enormous political pressure from his Democratic (former) allies, Rep. Anthony Weiner announced today that he will be stepping down as House Representative for the 9th Congressional District of New York. For the past three weeks, Weiner has been embroiled in a scandal that stemmed from a lewd image published on his Twitter account, an image that he had indignantly claimed that was the result of a hack. Earlier this week, he admitted that he had been lying to the media. Since then, additional salacious and embarrassing details have emerged about Weiner's online behavior.
The political fallout of Weiner's online sexting scandal appears to be complete, with prominent Democratic icons (perhaps most notably Alec Baldwin) openly being mentioned as possible replacements for Weiner. With the party leadership forsaking him, even stalwart liberal firebrands in the opinion media circuit – like Ed Schultz – have vociferously insisted that Weiner step down from office.
During last week's surreal press conference, in which he admitted to participating in untoward behavior, Weiner was insistent that he would not resign from office. But the tide of political opinion turned against him, and the ultimate revelation of a final and previously unreleased image of Weiner's penis may have been the tipping point against him. The follow-up news that he was engaged in this behavior while his wife Huma Abedin is pregnant may have added to his demise, as this gave his salacious actions a tragic turn.
Since that dramatic story broke, the police have begun investigating his interactions with a 17-year-old girl and his party leadership, including President Obama, Rep. Nancy Pelosi, and DNC Chair Debbie Wasserman Schultz, have gone public with their desire to see him step down. New photos with possible ethical repercussions in Congress were also released by TMZ, which appear to depict Rep. Weiner in the Congressional gym. Rep. Weiner then requested a "short leave of absence" to seek treatment, which ultimately culminated in a full departure.
No word yet on who will replace Weiner for his 9th District seat.
Have a tip we should know? tips@mediaite.com