NYC Tabloids Take Two Very Different Approaches For Monday's Orlando Massacre Covers
The political ideologies for the New York Daily News and the New York Post are well-documented. While the right-leaning Post has largely used snark to speak to the millions of conservative New Yorkers, the more liberal Daily News has used its bully pulpit in recent years to target gun ownership and the NRA. In fact, the executive vice president of the NRA — Wayne LaPierre — has become public enemy number one, and the News has gone as far as to label him "Jihadi Wayne."
On Monday morning, each of the New York dailies predictably focused their cover stories on the Orlando massacre from early Sunday morning that left 50 people dead in a gay night club. However, given the many layers of the tragedy, the Post and Daily News took two very different approaches.
Under the headline "ISIS VS. US", the New York Post took aim at the rising threat of the Islamic State; reports indicate that the shooter — 29-year-old Omar Mateen — phoned 911 shortly after the start of the attacks to swear his allegiance to Abu Bakr al-Baghdadi, the leader of the ISIS caliphate. The Aamaq news Agency of the Islamic State claimed responsibility for the attack, saying the events in Orlando were, "carried out by an Islamic State fighter."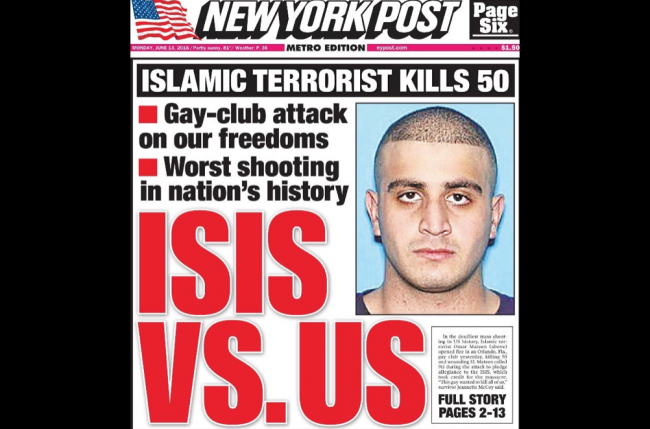 The Daily News however focused its cover Monday on the AR-15 semi-automatic rifle that Mateen legally obtained despite being a known person of interest by the FBI. Dripping with its signature sarcasm, the Daily News opted for, "Thanks, NRA":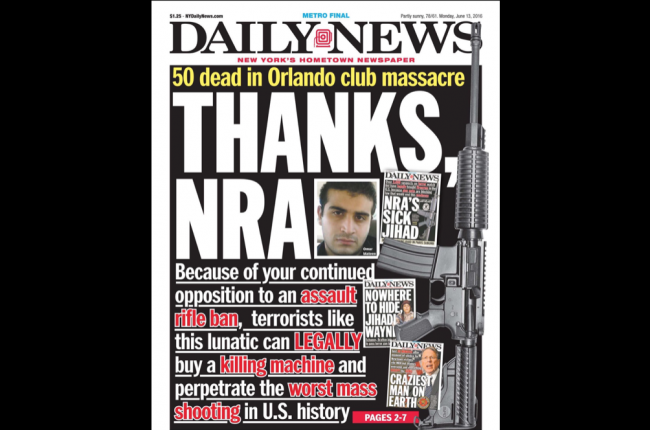 "Because of your continued opposition to an assault rifle ban, terrorists like this lunatic can LEGALLY buy a killing machine and perpetrate the worst mass shooting in U.S. history," reads the subhead.
The Daily News has sparked national headlines of its own with its powerful anti-gun covers, most notably following the San Bernardino attacks in December. Highlighting Tweets from Republican lawmakers that called for prayers following the deadly attacks, the News aggressively asserted, "GOD ISN'T FIXING THIS," calling the GOP pols "cowards" for their unwillingness to push against the scourge of gun violence.
—
[images via screengrab]
Have a tip we should know? tips@mediaite.com