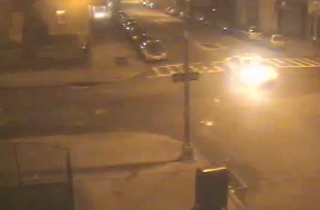 August has not been kind to America's police, and new allegations against the New York Police Department may make it worse: the lawyers for a 24-year-old Japanese student struck and killed by a NYPD cruiser claim that the police covered up the circumstances of his death, and released surveillance tapes as proof.
Ryo Oyamada was killed on February 21st when Officer Darren Ilardi fatally hit him with his car while on duty, but police claimed that Ilardi was responding to a nearby knife incident and had his sirens and lights on — in short, placing the blame of Oyamada.
But surveillance video (viewed here) from the New York Housing Authority, provided to Gothamist by lawyers representing Oyamada's family, indicate otherwise: that the cop's lights were not on until after he hit Oyamada:
At the 1:35 mark, the headlights of an NYPD cruiser allegedly driven by Officer Ilardi appear in the upper left-hand corner of Camera 1. It speeds out of the right side of the frame at 1:42, after crossing the intersection of 40th Avenue and 10th Street. (This next block is where Oyamada was killed.) Pausing the video at several points appears to show that the cruiser's flashing lights were not on, which is consistent with witness statements to the media and contrary to informal NYPD statements, as well as the police report.
At the 1:45 mark, Camera 1 appears to show the first indication that the NYPD cruiser's flashing lights are on, judging by the reflection of lights on a street sign. This sudden reflection of lights would correspond to witness statements that Officer Ilardi only turned on his flashing lights after colliding with Oyamada.
The family's suit claims that the NYPD willfully covered up the actions of Ilardi, who has a "poor driving record" with the department, as well as "purposefully destroyed evidence [and] failed to properly investigate the crash."
Watch below via the link:
Oyamada–10th and 12th Street Cameras from Vaccaro and White on Vimeo.
[Gothamist]
[Image via screenshot]
—
>> Follow Tina Nguyen (@Tina_Nguyen) on Twitter
Have a tip we should know? tips@mediaite.com