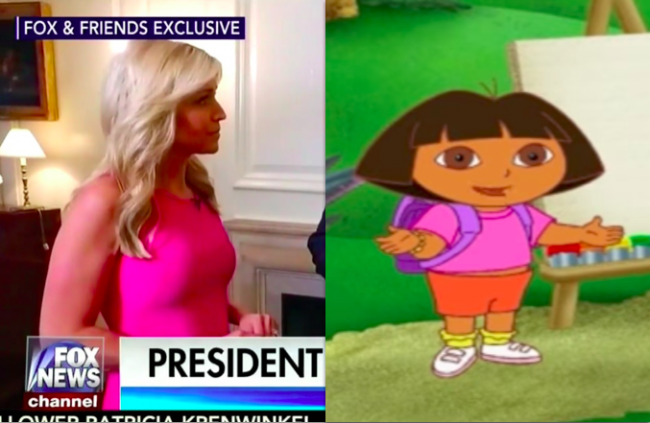 Ever since the birth of cable, television has been a rich panoply of channels with ideas and niche subjects to appeal to even the most specialized audiences and demographics.
With such rich content, the opportunity for cross-programming comparisons are boundless. On Wednesday New York Times TV critic James Poniewozik published an analysis of Fox & Friends, whose opening grafs compared the popular morning show to children's television. In the Times' Critics Notebook, Poniewozik specifically cited Dora the Explorer.
Per The Times:
The producers of children's television know the key to holding a distractible audience's attention: interactivity.

Dora the Explorer asks kids to repeat after her ("Swiper, no swiping!"). Mister Rogers broke the fourth wall to welcome them to his neighborhood. The hosts of "Romper Room" pretended to see them through a "magic mirror," and read their names on the air.

It turns out you can apply the same formula to morning news. "Fox & Friends," the three-hour wake-up program on Fox News, is an interactive magic mirror for Donald J. Trump.
… Interesting.
The rest of the review is a more or less predictable description of Trump's curious relationship with the morning show and how its fortunes have skyrocketed along with Trump's political career.
The president — as we are all regularly reminded — routinely watches Fox & Friends. Trump's real time Twitter reactions to the show's programming can set the news coverage for an entire day.
[image via screengrab]
Have a tip we should know? tips@mediaite.com