NYTimes Public Editor Says Larry David's 'Insensitive' Op-Ed 'My Son, The Terrorist' 'Missed The Mark'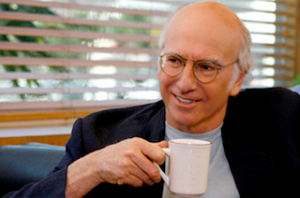 Is it too soon for comedy about the Boston Marathon bombings? That's the question that New York Times's Margaret Sullivan tackled on her Public Editor Journal today. Sullivan did not look kindly on a recent op-ed by Larry David, titled "My Son, The Terrorist," in which the Seinfeld creator and Curb Your Enthusiasm star imagined what it would be like if his mother found out he was responsible for the Boston attacks.
David opened his comedy piece in this past week's Sunday Review section by writing "Despite incontrovertible evidence to the contrary, Zubeidat Tsarnaeva, mother of the Boston bombing suspects, has defiantly proclaimed her sons' innocence in several interviews. I can think of only one other person who would take such a stance…"
The then went on to transcribe a mock interview between a reporter and his own mother, Rose David, who said things like "My Larry? He sees a spider in the house, he gently puts it in a tissue and takes it outside" and "He called me the day after the bombings, said the police were chasing him. You know why? Because it's a setup! He's a big success and they can't stand it."
The article was a satirical look at the unconditional love of mothers for their sons, particularly Jewish mothers, but some readers evidently found it offensive and wrote to Sullivan with their complaints. She quotes one reader as writing, "Mr. David should be ashamed of himself. The editor who decided to publish this piece should be reprimanded. The Times should publicly apologize to its readers, especially its readers in Boston."
Andrew Rosenthal, the editorial page editor in charge of the piece defended its publication on the grounds that "good political humor is always edgy and sometimes difficult to hear" and "the object of his satire was the mother and the absurd press conference at which she went on a dramatic tirade."
Ultimately, Sullivan sided with the readers who took offense, saying David's piece didn't work, "not only because it was insensitive, but also because it was unfunny." As public editor, Sullivan likely only hears from those who took offense to a piece of writing, not those who did find the piece to be harmless and funny. As such, she did not include any comments from readers defending the piece.
Larry David was not the first to attempt to draw comedy out of the tragedy in Boston. But where Jon Stewart and Stephen Colbert aimed their jokes at the media coverage of the event, David went directly after the suspects themselves and their mother. Coming less than two weeks after the bombings, it was evidently too soon for readers of the New York Times and its public editor.
—
>> Follow Matt Wilstein (@TheMattWilstein) on Twitter
Have a tip we should know? tips@mediaite.com