NYT's Inane Investigative Piece on Rubio's Leadfoot Rightly Results in Mockery, Fundraising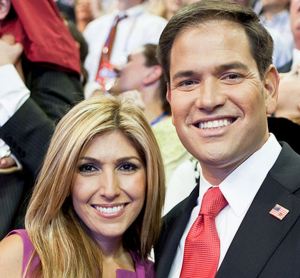 If what the New York Times tried to pass off as actual news this week is a preview of what to expect for the next 520 days until election day, trust in media really is driving off the cliff.
The story in question regards 2016 GOP Presidential hopeful Marco Rubio, who has enjoyed the best start to this marathon campaign season over anyone on either side (Bernie Sanders being a close second). The big donors are now hedging their bets with Rubio in the event Jeb Bush continues to stumble in his futile attempt to distance himself from his brother without insulting him (See: Mission Impossible). Polls show Rubio being the biggest headache for Hillary in a reverse-repeat of the contrast seen in the 2008 election…with Mrs. Clinton in the role of John McCain (old, grumpy, out of touch, and dubious owner of the incumbent's record) and Rubio starring as Barack Obama. And as Rubio's poll numbers rise, so does the scrutiny…even of the untentionally hilarious variety.
So what was the Times' journalistic crime? An "investigative" piece ("Rubios on the Road Have Drawn Unwanted Attention") that shows Mr. Rubio running into trouble with the law (OK, traffic cops) by averaging one traffic ticket almost every…five years (four in 18 years). This is obviously a big issue to ponder when considering who should lead the most powerful nation on Earth…a job that also has transportation provided in every way possible. The likely Democratic nominee, of course, has exactly zero tickets since 1992, simply because she hasn't driven in any capacity since her husband became our 42nd President.
But here's where NYT reporters Alan Rappeport and Steve Eder really did their homework: In exploring Mr. Rubio's driving record, they also uncovered that–since 1997–Mrs. Rubio has racked up 13 tickets. Rutt-Row.
New York Times Washington Bureau Chief Carolyn Ryan defends the coverage to the Washington Post's Erik Wemple in a response email to the media columnist, arguing, ""The vote for president is the most personal vote that Americans cast. Voters want to know about these candidates – not just as policy-makers, but as people. It is not at all unusual or unexpected for us to scrutinize candidates' backgrounds and their lives through public records. It is very standard scrubbing."
And that's all well and good, but what Ms. Ryan fails to address why two reporters had to be assigned to such a standard task, or why Jeanette Rubio's driving record is remotely relevant. She also doesn't mention that the Times failed to scrub then-candidate Barack Obama's little ticket issue he had back in 2007 when he announced his candidacy. In all, Mr. Obama had 15 outstanding parking tickets he hadn't paid dating back to the 80s. As a former resident of the parking violation capital of the world (Hoboken, NJ), I can empathize with that number and "forgetting" to pay a few along the way. In other words, just as in the case with Rubio, who effing cares?
So in an effort to save the Times a little time and money, here's some more opposition research, errr, standard scrubbing to place on Monday's A1: Mrs. Rubio was once a Miami Dolphins cheerleader in 1997. And despite her cheering her heart out, the team was unceremoniously ousted from the playoffs in the first round by the pre-Tom Brady-Pats in Foxboro. Just another failure on Rubio's record to consider when voters are making the most personal vote they will ever make and stuff.
To borrow a page from Rahm Emanuel's playbook, the Rubio camp is making the very most of this crisis opportunity by fundraising off of #RubioCrimeSpree, which quickly became Twitter's top trending topic. Here's a best of sample of other possible crimes the Times will be covering next:
#RubioCrimeSpree Once went through Publix express checkout lane with 11 items

— David Burge (@iowahawkblog) June 5, 2015
Ordered an Egg McMuffin at 11:03 am #RubioCrimeSpree

— Stephen Miller (@redsteeze) June 5, 2015
If @marcorubio was a Dem, the @nytimes story on his driving would have speculated he was a victim of racial profiling. #RubioCrimeSpree

— Jason Jackson (@jasonjacksonCA) June 7, 2015
In 2013, Rubio raised over $200,000 after his infamous water swig during a response to the State of the Union ensued in mockery (by selling water bottles with Rubio's name on it). How many thousands more will be raised from this latest reason why the public's distrust the media is at an all-time high is anyone's guess.
Either way, mocking the Times is exactly the way any Republican or Democrat should respond when a major media outlet goes out of its way to make an ass of itself:
Don't complain about bias or whine about hit pieces…
Fundraise off of them. And if the Times' version of Fast and Furious 13 is any indication, there will be ample opportunities to do so.
— —
>>Follow Joe Concha on Twitter @JoeConchaTV
Have a tip we should know? tips@mediaite.com