O'Reilly And Beck Tear Into 'Apathetic' Voters, Suggest It'll 'Take A Disaster' To Get People To Wake Up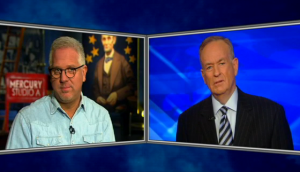 Bill O'Reilly stopped by Glenn Beck's program today for a discussion on the nanny state and the state of the apathetic nation. Beck rattled of a list of things that have been banned by New York City Mayor Michael Bloomberg, including large sodas and many kinds of guns, while both Beck and O'Reilly tore into liberal hypocrisy over gun control. O'Reilly said that most people are so ignorant and apathetic that it will "take a disaster" to get them to wake up.
RELATED: Glenn Beck On Tea Party Recapturing Its 'Mojo': GOP 'Will Become Less And Less Relevant' Every Day
O'Reilly explained that he has no problem with any state passing gun control laws in the name of public safety, since he believes that to be preferable to any action by the federal government. And on that score, O'Reilly said the Obama administration has no interest in solving the problem of gun violence, though he did calm Beck's fears about the government just coming for people's guns. Beck argued that President Obama will push for legislation to start confiscating certain types of guns. O'Reilly offered to make a bet with Beck on whether that will happen.
Beck found some hypocrisy in guns being banned out of "compassion" for the children, but meanwhile New York governor Andrew Cuomo is pushing for no restrictions on late-term abortions. O'Reilly agreed that was "awful," calling Cuomo "barbaric" and found it amazing that the governor considers himself a Roman Catholic. Beck and O'Reilly agreed that such measures "cheapen" life, with O'Reilly arguing that Cuomo doesn't really care about the children.
O'Reilly told Beck that it will most likely "take a disaster" economically to get people to reevaluate their narcissism and general apathy of each other. He bemoaned people's obsessions with their "machines" and "Tweeting" that allow politicians like Cuomo to get away with what they're doing. Beck said the goal the needs to be actively urging people to wake up, though O'Reilly said the people they need to reach are the ones who don't pay attention.
Watch the video below, courtesy of BlazeTV:
—–
Follow Josh Feldman on Twitter: @feldmaniac
Have a tip we should know? tips@mediaite.com
Josh Feldman - Senior Editor