Obama Administration Official: 'We Sort of Choked' on Russia Hacking Response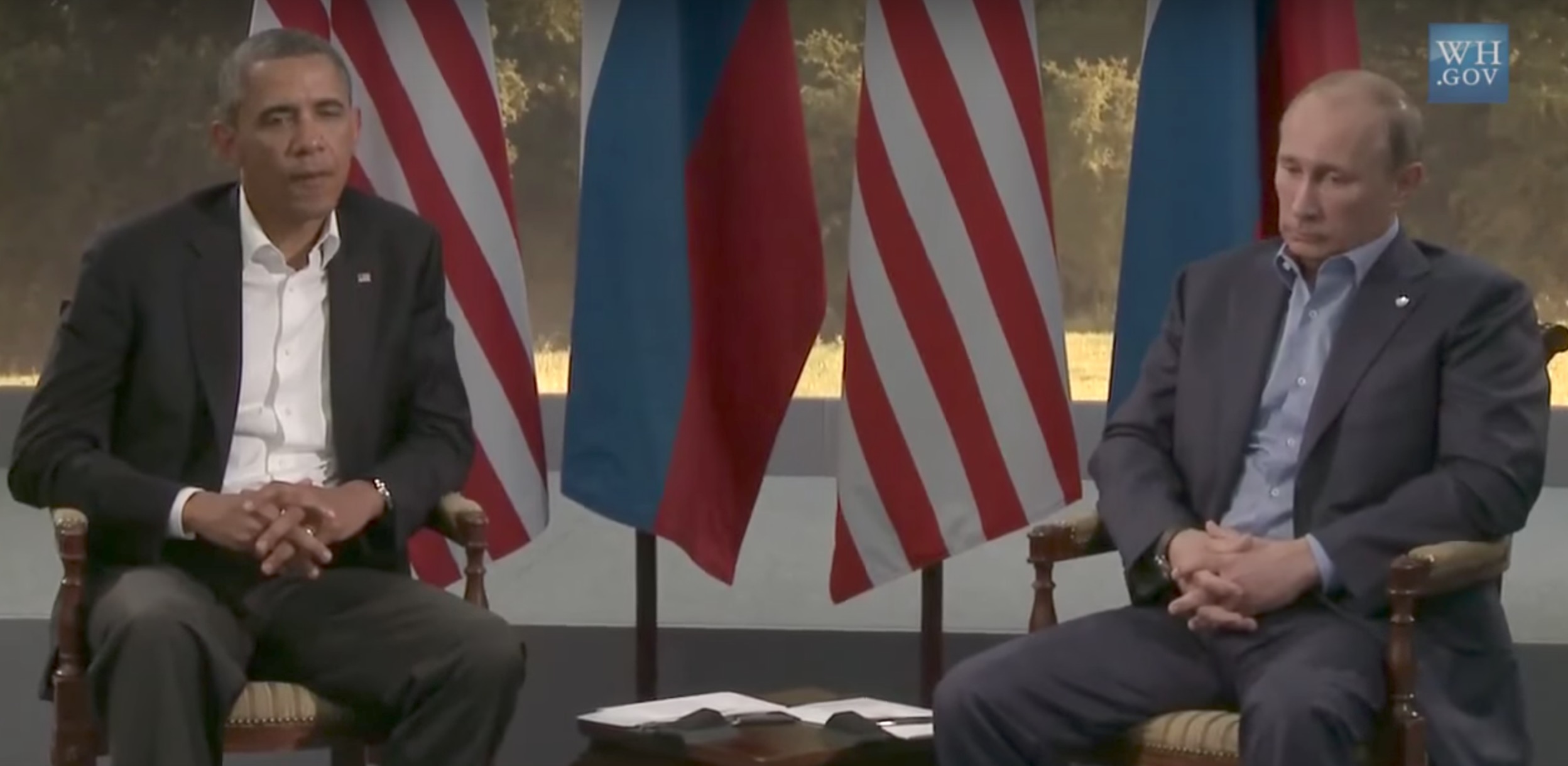 A new bombshell report from The Washington Post takes a deep-dive into former President Barack Obama's response to Russian interference in the U.S. election — and Vladimir Putin's direct involvement in those efforts.
The story details a highly classified CIA intelligence report sent in August 2016 to only four people — Obama and three senior aides — "that detailed Russian President Vladi­mir Putin's direct involvement in a cyber campaign to disrupt and discredit the U.S. presidential race."
Even more alarming for an administration in its last months, the "intelligence captured Putin's specific instructions on the operation's audacious objectives — defeat or at least damage the Democratic nominee, Hillary Clinton, and help elect her opponent, Donald Trump."
The CIA intel report was the first serious indication of Russian intentions to disrupt the U.S. election and elect Trump, and would later be corroborated by other top intelligence agencies.
As the Obama administration waited for other agencies to confirm, they mulled options for responding to Russia, including heavy sanctions geared at sinking the Russian economy, eventually settling on what WaPo describes as "a modest package" including expelling Russian diplomats from the U.S.
The CIA noted that Obama's series of warnings, "including one that Obama delivered to Putin in September," deterred Russia from pursuing further attacks on U.S. voting systems. During a meeting of world leaders in China, Obama confronted Putin face to face, reportedly telling him "we knew what he was doing and [he] better stop or else," per a senior WH aide. In response, Putin demanded proof.
But Obama did approve a plan to plant cyber bombs in Russia, a capability Trump would have to decide whether to develop and use:
Obama also approved a previously undisclosed covert measure that authorized planting cyber weapons in Russia's infrastructure, the digital equivalent of bombs that could be detonated if the United States found itself in an escalating exchange with Moscow. The project, which Obama approved in a covert-action finding, was still in its planning stages when Obama left office. It would be up to President Trump to decide whether to use the capability.
Obama's presiding hesitation to respond was fueled by a fear of further escalation from the Kremlin, as well as a worry that going public with the findings would be perceived as biased towards Clinton.
The WaPo report also notes that former administration officials are remorseful about the way the Russian interference was handled:
"It is the hardest thing about my entire time in government to defend," said a former senior Obama administration official involved in White House deliberations on Russia. "I feel like we sort of choked."
Another fascinating nugget: as U.S. officials were troubled by a spike in Russian-authored fake news injected into social media spheres, they "became alarmed by an unusual spike in requests from Russia for temporary visas for officials with technical skills seeking permission to enter the United States for short-term assignments at Russian facilities."
It also notes that when top lawmakers on Capitol Hill were briefed on the intelligence linking the Kremlin to election interference, Republican congressmen were hesitant to go public — Majority Leader Mitch McConnell even voiced skepticism that the intelligence "truly supported the White House's claims."
Following the election of Trump, Obama officials were reportedly demoralized, and many called for strong retaliation — some senior officials even called for "imposing sanctions on Putin personally or releasing financial records or other information that would embarrass him."
Ultimately, Obama decided to go with the fairly narrow response of shutting down two Russian compounds and ejecting a number of diplomats. Now that Trump is in the White House, it's unlikely the Kremlin will see further consequences for their attacks.
Read the mammoth WaPo report, in its entirety, here.
[image via screengrab]
—
Follow Aidan McLaughlin (@aidnmclaughlin) on Twitter
Have a tip we should know? tips@mediaite.com
Aidan McLaughlin - Editor in Chief