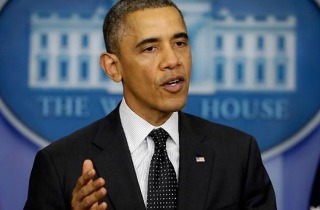 According to a report in The New York Post, President Barack Obama allegedly responded to a letter he received from a Texas school teacher who was concerned about the negative impact the Affordable Care Act may have on the president's political position by referring to conservative Americans as "tea baggers."
"This bill has caused such a divisive, derisive and toxic environment," wrote Thomas Ritter, a fifth-grade teacher at Sally B. Elliott Elementary in Irving, Texas. "The reality is that any citizen that disagrees with your administration is targeted and ridiculed."
Ritter added that he was afraid to write the president in the first place because he believed he could face "retribution."
"I watched you make fun of tea baggers and your press secretary make fun of Ms. [Sarah] Palin which was especially beneath the dignity of the White House," Ritter closed. "Do the right thing not the political thing. Suggest a bill that Americans can support."
The president replied to Ritter on official White House stationary by saying that he appreciated his "concern about the toxic political environment right now.
"I do have to challenge you, though, on the notion that any citizen that disagrees with me has been 'targeted and ridiculed' or that I have 'made fun' of tea baggers," the president replied, echoing Ritter's use of the derogatory term applied to conservatives who identify with the tea party.
"[I] defend strongly the right of everyone to speak their mind — including those who call me 'socialist' or worse," Obama continued.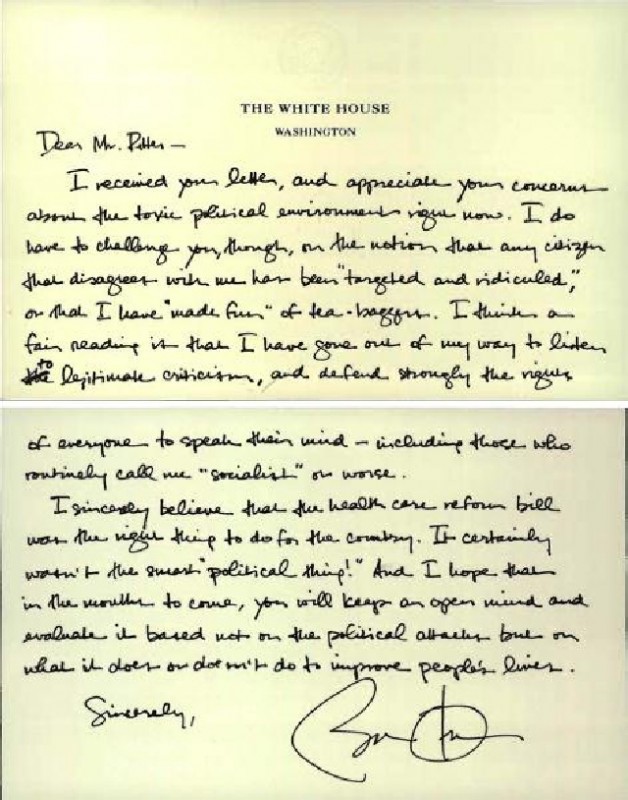 Ritter put the letter up for sale on MomentsInTime.com and told the Post that he is doing so because he is disappointed with the president and the ACA. "The president told me what he thought I wanted to hear," Ritter told Post reporters. "The letter is just words on a paper. It doesn't mean anything to me because Obama doesn't mean any of it."
The Blaze was told that the letter is "absolutely" real when they contacted MomentsInTime.com to verify its authenticity.
[h/t The Blaze]
[Featured image via FoxNews.com]
— —
> >Follow Noah Rothman (@NoahCRothman) on Twitter
Have a tip we should know? tips@mediaite.com