Obama Orders All Public Schools: Allow Trans Students to Use Facility Matching Identity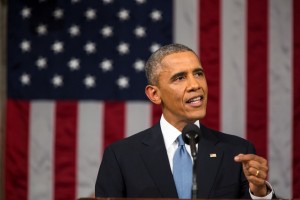 In what is the most direct line of rhetoric out of the Obama administration yet regarding the highly contentious debate over the rights of the transgender community, a "sweeping directive" is being issued to all US public schools today.
A letter from the White House is expected to go out Friday to all school districts in the nation to allow transgender students to use the bathrooms that match the gender that they identify with, not necessarily that of their birth. This is the most widespread and visible effort from the President on the issue yet, and a topic of national conversation that the administration has weighed in on for several years.
The New York Times reports, "It does not have the force of law, but it contains an implicit threat: Schools that do not abide by the Obama administration's interpretation of the law could face lawsuits or a loss of federal aid."
Although the contentious topic has yet to be settled in the court system — and while the eyes of the country are locked on the ongoing battle raging in North Carolina on this issue — the Obama administration perhaps feels confident in its assertion to issue the directive based on a recent court ruling in Virginia. While the ruling did not directly allow high school junior Gavin Grimm to use the mens room at school, it forced a lower court — that had initially ruled against Grimm's request — to offer a re-evaluation of the young man's injunction to use the restroom of his identity. The move was seen as a significant victory for the pro-trans effort nationwide, as it marked the first time that a federal appeals court ruled in favor of protections for these students under Title IX.
According to a copy of the letter set to go out Friday that the Times obtained, "A school may not require transgender students to use facilities inconsistent with their gender identity or to use individual-user facilities when other students are not required to do so."
In 2011, President Obama issued a Presidential Proclamation on behalf of the lesbian, gay, bisexual, and transgender communities, writing, "…we commemorate the courageous individuals who have fought to achieve this promise for LGBT Americans, and we rededicate ourselves to the pursuit of equal rights for all, regardless of sexual orientation or gender identity."
The President was the first in history to hold closed-door meetings to further the conversation with activists and members of the trans community, and tapped transgender Amanda Simpson for a role in the U.S. Bureau of Industry and Security in 2009.
—
J.D. Durkin (@jiveDurkey) is an editorial producer and columnist at Mediaite.
[image via Wikipedia Commons]
Have a tip we should know? tips@mediaite.com