Obama Dons His Media Critic Cap: Political Reporters Have 'All Got Opinions'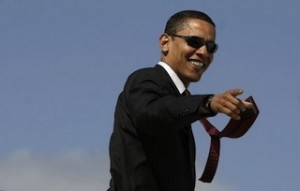 President Barack Obama is no stranger to playing the role of a media critic — and he assumed the position once more during an interview on Tuesday with KXNO sports radio. While the interview did focus largely on sports, politics naturally bled into the topics of discussion as well, allowing the president the chance to take a jab at political reporters.
Toward the beginning of the interview, Obama was asked to say something nice about Mitt Romney. He responded by noting Romney's "great family"…and his health care plan in Massachusetts.
"He seems to have a great family. And I really think he had a great health care plan when he was in Massachusetts," Obama said. "Seems to be working really well. One of the reasons why we set up the same kind of plan nationally and we're implementing it right now."
Later, he was asked about the similarities between playing sports and being president. Obama said the ideas of teamwork and team management, which are reinforced through sports, overlap with politics. "The whole idea of building a team and making sure folks are working as a team, I think applies to everything," Obama said (in the second sports radio interview he's done recently).
He then went on to note, "It also turns out that political reporters are a lot like sports reporters. They've all got opinions — even if they didn't play."
Nice one, Mr. President. Though it appears you may be doing a little bit of the same.
Listen to the interview below, via KXNO:

(H/T POLITICO)
Have a tip we should know? tips@mediaite.com