Obama Expected to Roll Out 'Consensus Building' Rhetoric in Effort to Rally Berners Behind Clinton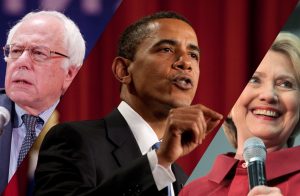 While the headlines, countdown clocks, and talking points seem to be swirling around the Republican party's effort to coalesce behind Donald Trump, there is still a small, teeny-weeny issue on the left: Bernie Sanders, and the 9,426,517 — and counting — popular votes that he has earned in this primary season.
The Vermont Senator has vowed to stay in the race at least for several weeks to come, challenging former Secretary of State and undisputed establishment favorite Hillary Clinton from the left on a variety of issues. The Clinton camp has calmly kept a level head about the challenge, opting recently to reinvest in ads aimed at securing the party nomination ahead of the likely general election.
There have been a few very influential voices within the Democratic party who have remained relatively silent on the issue of endorsement. Populist hero Elizabeth Warren is one of the few elected Senators from the party not to throw her weight behind one of the two remaining challengers, while Vice President Joe Biden has only tacitly indicated support for Clinton.
But there is one voice that is expected to ring out the loudest in the coming months as a champion for the Democratic candidate: President Barack Obama, whose focus on governing has long sidelined him from involvement in the race. Well, it seems as if that tenuous dynamic is slowly shifting, and ahead of a highly-anticipated commencement address at Rutgers University next week, the President indicated that he is preparing to address the disillusionment factor from the throngs of Sanders supporters.
In what the Washington Post is calling a "preview" message of sorts for the commencement, President Obama spoke with The Daily Targum, the school newspaper of Rutgers, about the need for steady and incremental change as a catalyst to longterm growth and success.
In part:
"We have to make sure we also recognize this is a big country, and there's very rarely a single set of silver bullets out there that would immediately solve all of these problems. We're part of an interconnected global economy now, and there's no going back from that. It's important for us to not oversimplify how we're going to bring about the kind of change we need.

"We've got to also recognize that, in a democracy like this, it's not going to happen overnight. We have to make incremental changes where we can, and everyone once in a while you'll get a breakthrough and make the kind of big changes that are necessary. That consensus building is important because that's historically how change has happened in America. Those are the kinds of things that I'll be talking about at the commencement."
WaPo's Greg Sargent writes, "This is both a subtle rebuke to Sanders's call for a revolution and a preview of the argument he'll likely make in urging his supporters to get behind Clinton." Despite his populist surge in the last year that has resulted in tens of thousands of supporters appearing for most of his live rallies, Senator Sanders is still facing an uphill climb in the nomination fight that many think is more like walking into a perpendicular wall.
While Sanders has championed a $15 minimum wage on the stump, it is Clinton's more pragmatic approach that serves as a good example of the differences between the two candidates. In November, Clinton said, "I favor a $12 an hour minimum wage at the federal level… That would be setting it at a level that would be equivalent to the point in our history where the minimum wage was at its highest" since 1986. It is a move that many see as the more pragmatic — and far more likely — outcome in the 12-versus-15 battle, and a good example of what President Obama likely referred to with his, "…not going to happen overnight," grab from the Targum interview.
[h/t Washington Post]
—
J.D. Durkin (@jiveDurkey) is an editorial producer and columnist at Mediaite.
[images via Wikipedia Commons]
Have a tip we should know? tips@mediaite.com