Obama Family Reportedly Thinking About Moving to NYC Because Chicago Is a Mess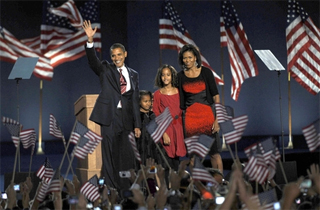 How bad is Chicago right now? Depends on where you look (the shootings kind of suck, as does the weather) but apparently it's losing its allure enough that the Obamas may not move back after they leave the White House.
BuzzFeed reports that the Obamas are considering a move to New York after Barack's term ends, thanks to "messy Chicago politics and a personal craving for a new beginning when they leave the White House for the last time as residents. The first family fears the Chicago they left is not one they want to return to, and a source close to the family said the long-shot New York library bid has emerged as a serious alternative."
This may be partly due to the non-popularity of Obama's former Chief of Staff and current Chicago mayor Rahm Emanuel, who Obama heavily assisted during his election and famously has low poll numbers (though those numbers are quickly rising thanks to his re-election campaign). Or maybe they don't like the blizzards.
But why would they move somewhere that has equal amounts of bad weather? For one, suggests BuzzFeed, they may be seriously considering Columbia University's bid for the Obama Presidential Library (he completed his undergraduate degree there, after all). They could also be considering the sad inevitable path of…becoming pundits:
Another New York Congressman, Long Island Republican Peter King, suggested New York would offer Obama a better environment for staying relevant, should he want to.

"New York is the media capital of the world. I think that's what he wants and you don't get that anywhere else," said King, who added that he'd "heard second and third hand" that Obama is seriously considering New York. "I can certainly understand why."
Let's hope that's not the reason, guys.
[BuzzFeed]
[Image via Everett Collection / Shutterstock.com]
—
>> Follow Tina Nguyen (@Tina_Nguyen) on Twitter
Have a tip we should know? tips@mediaite.com