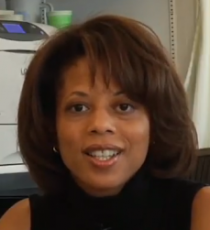 Obama/Joker posters and 'spontaneous' town hall demonstrations aren't the only viral forces at work in the increasingly nasty health care debate. Now, the White House, which the Times notes in a story today is "at risk of losing control of the public debate," is fighting back with Reality Check, a Twitter, Facebook, and e-mail-friendly collection of health care fact sheets and video rebuttals to anti-health care talking points. The site's video content includes responses from administration officials such as the White House's Office of Public Engagement's Kavita Patel, M.D., and Domestic Policy Council Director Melody Barnes (left).
The Obama administration comes in at a disadvantage: smiling bureaucrats rehearsing well-vetted arguments for the cameras don't have the same viral oomph as crowds booing Arlen Specter, though gestures like filming the administration officials in relaxed quarters and using more candid shots are nice touches. Maybe they should have filmed Reality Check with a cell phone? The White House being the White House, dignity prevents it from using the sensationalistic tricks that sell on the Internets. Still as the Times notes, things may be getting slightly desperate:
[A]ides to Mr. Obama said the rapidly escalating threat to his health care plans had led him to order them to come up with a crisper message.

And Democratic Party officials enlisted in the fight by the White House acknowledged in interviews that the growing intensity of the opposition to the president's health care plans — within the last week likened on talk radio to something out of Hitler's Germany, lampooned by protesters at Congressional town-hall-style meetings and vilified in television commercials — had caught them off guard and forced them to begin an August counteroffensive.
Whether or not Reality Check picks up with the public remains to be seen, but tactics like this and Obama's upcoming appearance at the Portsmouth, New Hampshire town hall meeting this afternoon show that the White House is taking the public debate over health care a lot more seriously than they did at the start.
(hat tip to Politico)
Have a tip we should know? [email protected]