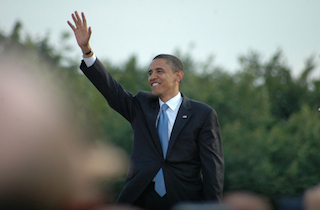 President Barack Obama has enjoyed a sizable shift in approval ratings since the midterm election last November that cost his party of the Senate.
Per a Washington Post/ABC News poll released Monday, Obama's approval rating is back at 50%, the highest recorded in that poll since spring of 2013, and a nine-point shift since December. 44% disapprove of Obama, ten points lower than in December, one of the few times in his second term he's been above water.
The WaPo poll echoes those by PEW and Gallup that have also found Obama's approval rating trending upward in the last two months.
The spike in his approval is largely attributed to steadily improving job numbers combined with plunging gas prices. (Some even wonder whether the decrease in gas prices might have saved the Democrats had it happened only a couple months ago.)
Sure enough the WaPo poll found the public evenly split on Obama's handling of the economy, 48/48, a different picture than the 42/52 split two months ago; a similar change was recorded by PEW. Presidents have very little direct influence over gas prices, but tend to absorb the blame for rising prices and the credit for plunges anyway.
Perhaps more importantly for Obama as he heads into a State of the Union in which he will propose tax increases on the wealthy to pay for middle class tax relief, a plurality believe Obama has "better ideas about helping the middle class" over the GOP Congress.
[h/t Washington Post]
[Image via 360b / Shutterstock.com]
——
>> Follow Evan McMurry (@evanmcmurry) on Twitter
Have a tip we should know? tips@mediaite.com