Obama on Dems' Inability to Reach Voters: 'Part of It Is Fox News in Every Bar and Restaurant'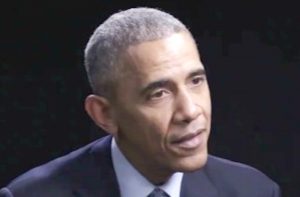 President Obama sat down for a post-election interview earlier this month with Rolling Stone's Jann Wenner, reflecting on Donald Trump's win and what Democrats did wrong.
Obama, who has done his best to move on from his criticisms of his successor, struck the same optimistic tone he has in the past few weeks, though he did have a lot to say about the current state of the media:
The challenge is people are getting a hundred different visions of the world from a hundred different outlets or a thousand different outlets, and that is ramping up divisions. It's making people exaggerate or say what's most controversial or peddling in the most vicious of insults or lies, because that attracts eyeballs.
When Wenner asked the president if he still believes America to be a progressive place, he cited how many white working class people voted for him in the last two elections.
So what went wrong this time? Well, Obama again invoked the media (emphasis added):
In this election, [white working class voters] turned out in huge numbers for Trump. And I think that part of it has to do with our inability, our failure, to reach those voters effectively. Part of it is Fox News in every bar and restaurant in big chunks of the country, but part of it is also Democrats not working at a grassroots level, being in there, showing up, making arguments. That part of the critique of the Democratic Party is accurate. We spend a lot of time focused on international policy and national policy and less time being on the ground. And when we're on the ground, we do well.
Over the past few years, the president has occasionally taken swipes at Fox, joking on more than one occasion that he wouldn't vote for the version of himself talked about on the cable network.
"This is not simply an economic issue," Obama said. "This is a cultural issue. And a communications issue."
He also brings up a major topic of discussion in the past few weeks, the prevalence of fake news:
One of the challenges that we've been talking about now is the way social media and the Internet have changed what people receive as news. I was just talking to my political director, David Simas. He was looking at his Facebook page and some links from high school friends of his, some of whom were now passing around crazy stuff about, you know, Obama has banned the Pledge of Allegiance.
You can read the full interview here.
[image via screengrab]
— —
Follow Josh Feldman on Twitter: @feldmaniac
Have a tip we should know? tips@mediaite.com
Josh Feldman - Senior Editor