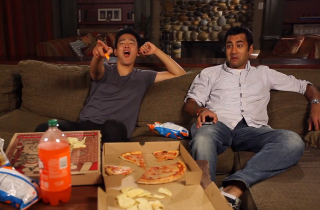 In a new promo video released over the weekend, the President Obama hypes the upcoming Democratic National Convention in a goofy ad that attempts to appeal to fans of the stoner-comedy genre by "calling" actor-turned-Obama's Associate Director of Public Engagement Kal Penn to get ready for the convention.
After the phone call, it is revealed that DNC host Penn is sitting glassy-eyed on a basement couch with Harold and Kumar co-star John Cho watching cartoons and munching on Cheetos, while surrounded by pizza boxes, soda, candy, and potato chips — in other words, the two of them are back as their Harold and Kumar characters, stoned as ever. Like hehe, lol, omg so funny.
Given my track record for thinking the president is nothing short of a dank hypocrite when it comes to drug prohibition, I could re-hash a rant or two about why this promo joint is particularly insulting. But Reason's Mike Riggs got to it first, and I really couldn't have said it much better:
What's more insulting is that Obama would wink and nod at marijuana use for political gain while federal agents under his control raid the homes and businesses of people who operate state-legal medical marijuana businesses, threaten to seize the assets of landlords who rent to medical marijuana businesses, raid the homes and threaten the children of men and women who sell marijuana paraphenelia, and continue to obfuscate and denounce research that shows the medical uses of marijuana.
We also shouldn't forget the fact that this isn't the first time Obama and the Democrats have laughed about weed while continuing to wage the decades-old failure of a War on Drugs at a pace comparable to their predecessor in George W. Bush.
Back in 2009, the president mocked and dismissed a serious question about drug policy during a CNN virtual town hall, because of course online voters would pick a question about marijuana legalization.
Watch below:
[h/t Reason]
>> Follow Andrew Kirell (@AndrewKirell) on Twitter
Have a tip we should know? [email protected]