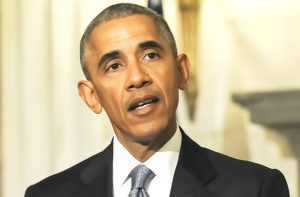 The New Yorker is out with a fascinating new interview between President Obama and David Remnick that took place in the aftermath of the election last week.
And the pervading theme of the interview is the president's optimism that this isn't the end of the world. Literally speaking.
Remnick writes that Obama literally consoled staffers the morning after the election by saying, "This is not the apocalypse." The president himself told Remnick, "I don't believe in apocalyptic—until the apocalypse comes. I think nothing is the end of the world until the end of the world."
Remnick spoke with Obama both before and after the election, and before last Tuesday Obama was "cautiously optimistic" about a Hillary Clinton victory.
After Trump won, Remnick describes the president as inhabiting a "calm zone" and still expressing a remarkable amount of optimism.
"I genuinely do not assume the worst," he said, "because I've seen the best so often. So it is a mistake that I think people have sometimes made to think that I'm just constantly biting my tongue and there's this sort of roiling anger underneath the calm Hawaiian exterior. I'm not that good of an actor."
And when Obama addressed whether he still thinks Trump is unqualified to be president, he said he's hopeful that only a small portion of his accomplishments will get rolled back:
"As a practical matter, what I've been saying to people, including my own staff, is that the federal government is an aircraft carrier, it's not a speedboat. And, if you need any evidence of that, think about how hard we worked over the last eight years with a very clear progressive agenda, with a majority in the House and in the Senate, and we accomplished as much domestically as any President since Lyndon Johnson in those first two years. But it was really hard." Obama said that he had accomplished "seventy or seventy-five per cent" of what he set out to do, and "maybe fifteen per cent of that gets rolled back, twenty per cent, but there's still a lot of stuff that sticks."
The president seems to genuinely believe that Republicans could "tinker and modify" Obamacare without stripping people of their insurance, and that they might keep the Iran deal in place.
When Remnick asked Obama how his meeting with Trump went, he hesitated before saying he would tell him about it "at some point over a beer––off the record."
And the president had this to say about why Trump encourages him more than you might expect:
"I think that the President-elect has shown himself to be able to make a connection with his supporters that gives him much more flexibility than the normal candidate to take a variety of approaches," he said. "They seem to trust him, separate and apart from any particular thing that he says or does. And, as a consequence, I think we have to wait and see how, in the face of the realities of governance, he reacts to it. Another way of putting this is that what has been true for some time is that if I proposed something that was literally word for word in the Republican Party platform, it would be immediately opposed by eighty to ninety per cent of the Republican voters. And the reason is not that they've evaluated what I said. It's that I said it. Well, the reverse then becomes true."
You can read the entire piece at The New Yorker here.
[image via Ververidis Vasilis/Shutterstock]
— —
Follow Josh Feldman on Twitter: @feldmaniac
Have a tip we should know? tips@mediaite.com
Josh Feldman - Senior Editor