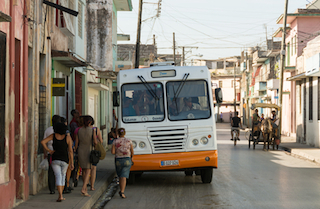 President Barack Obama is expected to announce a major shift in U.S.-Cuban relations Wednesday morning, following the release of U.S. prisoner Alan Gross from Cuba.
The changes include an easing of banking and trade restrictions with the country, which has been under a strict embargoed since 1961. The U.S. will also look to open an embassy in Havana in the coming months.
The Obama administration had been optimistic about a normalization of travel restrictions to Cuba if the country allowed telecommunication companies to operate within its borders, among other reforms. However, it was allegedly telecommunications equipment Gross was bringing into the country when he was arrested five years ago by Cuban authorities, an action that restarted tensions between the two nations.
Gross was released Wednesday morning, possibly as a humanitarian gesture, possibly in exchange for three Cubans held in the United States for spying on Miami anti-Castro groups. (The diplomatic details were unclear as of post time; there are reports of an "American asset" being released from Cuba as well, possibly the real prisoner swap.)
Obama is prevented from overturning the full embargo without the cooperation of Congress, but he can ease certain economic restrictions via the Treasury Department. He is expected to make the announcement at noon.
UPDATE — 10:50 A.M. ET: According to the Associated Press, the U.S. will also open an embassy in Cuba.
BREAKING: US officials: US to start talks with Cuba to normalize full diplomatic relations, open embassy.

— The Associated Press (@AP) December 17, 2014
UPDATE – 12:30 p.m. Watch the full speech below:
[h/t Associated Press]
[Image via rmnoa357 / Shutterstock.com]
——
>> Follow Evan McMurry (@evanmcmurry) on Twitter
Have a tip we should know? tips@mediaite.com