OccupEye London: Daily Telegraph Installs Monitoring Devices on Journalists' Desks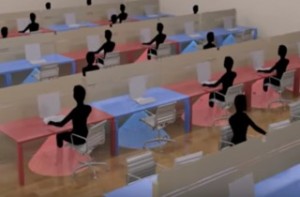 This morning, when journalists at London's Daily Telegraph went to work, they discovered small, black boxes attacked to their desks with no explanation. After some investigative Google work, the reporters learned that the "OccupEye"-branded boxes were actually motion-detecting devices. Following the workers' discovery, the newspaper emailed the staff to let them know that yes, their desk time is now being monitored.
The devices don't just monitor motion. They also track heat, meaning they are made to detect human presence. According to their website, "Quite simply, if a space is used, your OccupEye sensors will record it and you are guaranteed to know about it."
This is a pretty Orwellian move for a publication affiliated with the UK's National Union of Journalists, which upholds the ideals of "freedom" and "[obtaining] material by honest, straightforward and open means." While it is legal for an employer to implement monitoring strategies like this one, there are a number of ethical questions, especially in the journalistic field.
Perhaps the ambiguous virtuosity of it all is what has prompted the newspaper's HR to start "rowing back on it," according to one employee. They have sent out follow-up emails insisting that the monitors are meant to help the company save money and resources by reducing "the amount of power we consume for heating, lighting and cooling the building at times of low usage."
OccupEye has taken the Telegraph's side following increased media scrutiny, updating their website today with a statement that includes, "OccupEye sensors monitor the presence of people within space, but do not identify individuals." That is sort of relieving, assuming that the journalists don't each have their own desk.
[Image via screengrab.]
For more from Lindsey, follow her on Twitter.
Have a tip we should know? tips@mediaite.com