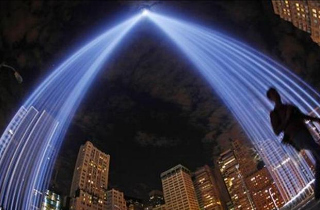 A piece today in the New York Post highlighted what many seem to agree is an offensive, tone deaf addition to the 9/11 Memorial Museum: its gift shop. "To me, it's the crassest, most insensitive thing to have a commercial enterprise at the place where my son died," Diane Horning, who lost her son in the attack, told the paper.
She's not alone in her reaction. If, as CNN noted in a story about the museum's collection of commonplace artifacts – papers and clothing and so on retrieved from the wreckage – that "tragedy turns the mundane into memorial," the gift shop itself is turning the mundane into memorabilia. It's the second controversy to crop up around the museum, which will officially open to the public on Wednesday, following push back against its $24 admission price.
The Post catalogued the admittedly bizarre and downright confounding items available for sale in the shop, including something called a "Darkness Hoodie" printed with the words "In Darkness We Shine Brightest," priced to move at $39. Elsewhere you'll find silk scarves with views of the Manhattan skyline for $95, "Survivor Tree" earrings, named for a tree that survived the attacks, for $64, and, some of my favorites, a 9/11 mousepad, and playful buttons that are "a tribute to the dogs of 9/11."
A posted sign at the shop points out that "All net proceeds from our sales are dedicated to developing and sustaining" the museum.
It would be easy, like many have done, to take offense to all of this, but it might help us throw the brakes on the pearl-clutching to point out that there are gift shops at the Holocaust Memorial Museum, the Oklahoma City National Memorial and Museum, and that there are numerous Pearl Harbor gift shops. In fact, there has been a gift shop at Ground Zero for a long time already. People were selling t-shirts down there while the ashes were still hot.
It would be a lot more surprising if there weren't a gift shop, wouldn't it?
It's not because the money is going to a good cause that a 9/11 gift shop makes sense, although I'm just as perplexed as everyone else about exactly who it is that will want to buy any of this shit, it's because this memorial is meant to be a symbol of what 9/11 represents. In that regard a gift shop is the perfect addition.
Rebuilding on the site in the first place was supposed to reflect how we as Americans see ourselves on our best days, resilient, unbowed, industrious, but it's important to keep in mind what the towers symbolized in the first place. It's the reason they were attacked, after all, the vast monoliths of grand American capitalism. What better way to memorialize that than by a store that sells useless, over-priced bobbles to people with too much disposable income, who have no need for, or really any idea why they'd want to buy any of it in the first place? Forget a tower, that right there is the American dream writ large.
The Post pointing out the incongruous nature of the gift shop shouldn't be a surprise, but it is somewhat cynical. Who's made more money on 9/11 stories than them? At this point it might be easier to start compiling a list of business and people who haven't gained professionally or monetarily from 911 in some way, including every politician and publication in the world, not to mention me with this blog post.
It's hard to remember what 9/11 was supposed to mean before it was turned into just another excuse for us to sell things to one another, but there's no question now that it's still great for business for all concerned.There's nothing so horrifying that we can't as Americans spin it into a quick buck. The entire damn country is already a 9/11 gift shop, what's wrong with one more?
[Image via Reuters/Jim Young]
— —
>> Luke O'Neil is a journalist and blogger in Boston. Follow him on Twitter (@lukeoneil47).
Have a tip we should know? tips@mediaite.com