Oh Hil No! New Swing State Polls Show Trump Edging Clinton on Trustworthiness, Jobs, ISIS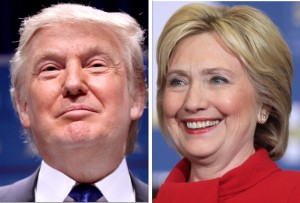 Although it's only July and the party conventions barely have their decorations in place, these can't be good numbers if you're Hillary Clinton.
New polling data released this morning from Quinnipiac University paints a bleak picture for the Democratic nominee in key swing states when compared to her GOP counterpart, Donald Trump. The states — Florida, Ohio, and Pennsylvania — are expected to play major roles in the November general election, and as always could tip the balance of the electoral college one way or another.
Here is a look at some of the numbers of Quinnipiac's newest findings:
OVERALL
FLORIDA: Clinton 39%, Trump 42%
OHIO: Clinton 41%, Trump 41%
PENNSYLVANIA: Clinton 41%, Trump 43%
Clinton enjoyed an 8 point lead in the state of Florida only a month ago, but now trails Trump in overall support there.
As for honesty and trustworthiness… well, you may have seen this one coming. Maybe it's the long-dragging email scandal, or James Comey's non-indictment-indictment, or even the "Crooked Hillary" moniker, but the fact remains: the former Secretary of State is getting hammered on this issue, and it's taking a severe tolls in some of the states where it matters most.
On the question on who is more honest and trustworthy, Trump is dominating with double-digit leads in all three states:
HONEST & TRUSTWORTHY
FLORIDA: Trump 50%, Clinton 37%
OHIO: Trump 47%, Clinton 37%
PENNSYLVANIA: Trump 49%, Clinton 34%
One of the saving graces for Clinton however out of the new Quinnipiac information is one that she will continue to hit hard on the campaign trail this summer: the fact that she is the "Day One" candidate, meaning she is fully prepared to be Commander in Chief from the moment she is sworn in.
The question of who is better prepared favors the Democrat by a stunningly wide margin:
BETTER PREPARED
FLORIDA: Clinton 53%, Trump 37%
OHIO: Clinton 57%, Trump 34%
PENNSYLVANIA: Clinton 56%, Trump 36%
However, the final two categories are much bleaker for Clinton, and are arguably two of the most important issues that will face the American electorate when it votes in the Fall: job creation and the handling of the Islamic State's threat.
The issue of job creation favors Trump currently by powerful double-digit margins in all three states polled:
JOB CREATION
FLORIDA: Trump 54%, Clinton 39%
OHIO: Trump 54%, Clinton 39%
PENNSYLVANIA: Trump 54%, Clinton 39%
…and the numbers regarding taking the fight to ISIS? Well, perhaps the "bomb the shit outta them," rhetoric from the GOP's presumptive nominee has been enough to assuage the fears of many in these key states, despite Clinton's tenure as Secretary of State:
MOST EFFECTIVE V. ISIS
FLORIDA: Trump 57%, Clinton 35%
OHIO: Trump 51%, Clinton 40%
PENNSYLVANIA: Trump 52%, Clinton 40%
We're still in the infancy of this general election, and anything is subject to change between now and November. But considering the fact that the Clinton machine has already poured in millions of dollars into anti-Trump swing state advertising, you know that their camp wishes some of the above figures were skewed a bit more to the left. As we've seen in the past however, Trump has a unique ability to adapt to the news of the world and often use it to his advantage through his off-the-cuff bravado. States like Virginia, Colorado, New Hampshire, and Iowa are also expected to play huge parts in November, but if the information above is any indication, the Clinton camp has some ground to make up on seriously contested issues that matter to American voters.
—
J.D. Durkin (@jiveDurkey) is an editorial producer and columnist at Mediaite.
Have a tip we should know? tips@mediaite.com