Oh the Irony: GOP Leaders Ask Cruz to Apologize Before Receiving Their Support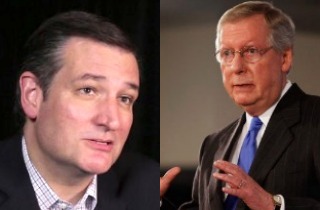 It's funny how the tables turn over time. Ted Cruz is the only one left who can pose any real challenge to Donald Trump's Republican nomination, and now, figures from the political establishment are asking him to make nice with them before they agree to coalesce around his campaign.
While his uncompromising stances distinguished Cruz as the junior U.S. Senator from Texas, years of stunts like shutting down the government and calling Majority Leader Mitch McConnell a liar have caused many of his colleagues to dislike him. According to CNN, Sen. John Cornyn and others have called on Cruz, after he won Texas, advising him speak to the Senate GOP Conference to get their backing.
"I think he's got some bridges to build here," said Sen. John Thune. "I think it would be helpful obviously for him if he thinks he is going to be the guy…to come back here to mend some of those fences that he tore down when he was here."
Utah Senator Orrin Hatch had similar thoughts, expressing that Cruz's behavior was "not proper," but also that he sees a "gradual change" that might cause him to come around. On the other hand, Cruz's campaign manager Jeff Roe indicated that Cruz's colleagues could keep dreaming, and that they "never built [their] campaign" to turn around and accept these kinds of endorsements.
Redstate noted that Cruz is in a compromising situation here, because although he needs to close the gap with Trump, playing nice with his old establishment enemies could be disastrous to his brand.
[image via screengrab]
Have a tip we should know? tips@mediaite.com