'OK, Honey. Then We'll Win': Trump Responds To Kellyanne Conway Telling Him He'll Be Victorious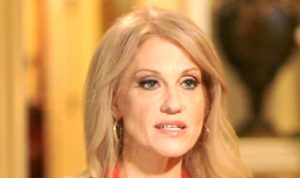 In a profile piece on Kellyanne Conway that was run today on CNN, it appears that GOP presidential nominee Donald Trump likes to casually refer to the woman running his campaign as "honey."
The Trump campaign manager discussed trying to keep her candidate focused on the issues down the stretch run. After saying she thinks he can win when he stays on message, she then relayed an exchange to CNN's Dana Bash that she had with the real estate mogul.
"I don't sugarcoat at all," said Conway.

She told him after his off script rant, "You and I are in a fight for the next 17 days."

When Trump asked why, Conway replied: "Because I know you're going to win. And that comment you just made sounds like you think you're going to lose. And we're going to argue about it until you win."

His response?

"He was like, 'OK, honey. Then we'll win,' " Conway said.
Considering Trump is currently experiencing a large gender gap in the polls, it will be interesting how that last line plays out in the press, and how Conway and the campaign responds.
.@DanaBashCNN at home w/ @KellyannePolls – on her role as a mom & @realDonaldTrump's campaign manager @jerharlanCNN https://t.co/L6L3miOyvh

— Abigail Crutchfield (@ACrutchfield14) October 25, 2016
Later on in the interview, Conway stated that it wasn't her place to keep Trump away from his Twitter account, being he's a grown man and all.
But it is his Twitter feed that has gotten him in the most trouble.

"People will seriously say, 'Can't you delete his Twitter account?'" said Conway.

"I'm not going to take away — it's not for me to take away a grown man's Twitter account," she added.
When asked point blank on whether she thought Trump could win, Conway said it was "possible." As far as probable, she noted that he has a "very good chance" and that it is "unwise" to bet against Trump.
Watch the interview above, via CNN.
[image via screengrab]
–
Follow Justin Baragona on Twitter: @justinbaragona
Have a tip we should know? tips@mediaite.com