Oliver Twist: Jon Stewart's Soon-to-Be Backup Should Be a Starter Elsewhere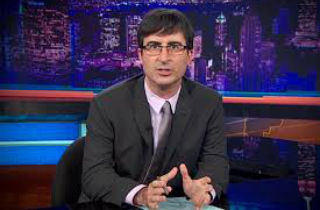 They say the most popular guy on a losing football team is the backup quarterback.
That mantra apparently extends to Comedy Central's Daily Show — anything but a loser — as well.
For the first time in many moons, we've seen a Daily Show without someone named Stewart presiding over it for an extended period of time. If we're sticking with the whole NFL theme, Stewart is to cable programming what the Mannings are to football: Operating on a different level than the competition, universally liked and respected, and a consistent winner.
It's always a marvel to see Stewart take a story—particularly a political and media one—and find the irony, the "it's funny because it's true" moment in it. His critics like to point out that he's only as good as his offensive line and receivers (or in his case, his writers and producers). But Stewart has done just fine without a script…just ask Tucker Carlson and Paul Begala. There's a reason Crossfire had to go off the air for years before getting another turn in a few weeks (which if this recent S.E. Cupp–Stephanie Cutter meow factor is any indication, should be a compelling reboot).
Earlier this summer, the 50-year-old (yup, you're old… 50-year-old) Stewart took the summer off to pursue a directing/producing project (his directing debut). After 14 years, it's pretty certain he's earned it. Enter John Oliver, a British Daily Show "correspondent" who has made the transition in the host seat as smooth as David Lee Roth to Sammy Hagar.
*Side note: Don't laugh…I know people (OK…me) who think the Hagar/Van Halen era was a touch better than the early days with David Lee Roth (and we'll see you in the comments section!)
Anyway, Oliver has been bold, unique, but in doing so has maintained the Daily Show's basic premise of offering sane perspective in an increasingly insane world. The British accent also applies the old "15 rule" when it comes to the Brits, where it can (seemingly) add 15 points to an IQ and adds $15K to a bank account. In other words, British people always tend to sound more intelligent, more savvy, and invariably are more comedically-inclined than their American counterparts.
So when Stewart returns after Labor Day, Oliver will go back to playing second fiddle. But if I'm running any of the cable news networks (CNN, Fox, MSNBC), I'd be opening my checkbook, like…now…and give Mr. Oliver (along with a few writers from the show) a princely sum to host a show similar to the Daily Show. Stewart is untouchable when it comes to making such an offer: He currently earns $14 million. But Oliver is (arguably) just as effective as Stewart, but can come at 1/10th the cost.
Every day and night, we see cable news personalities attempt to be funny and hip, attempt to be the Daily Show 2.0. Nine times out of ten (and that's generous), the attempt fails in spectacular fashion. That's what happens when former politicos, journalists or activists step out of their element and try to be standup comedians and entertainers (and without a team of top comedy writers, no less). It's just plain awkward to watch.
But the Daily Show is fake news. What would an Oliver version do to the credibility and integrity of a cable news outlet, which does real news?
You're kidding, right?
It's not like we're talking about following Cronkite, Mudd or Murrow here. And if Sean Hannity's Sydney Leathers interview on Tuesday night is any indication, the content will never be confused with the BBC, either.
Fox is changing its primetime lineup this fall.
CNN is adding the aforementioned Crossfire 2.0 to 6:30 PM.
MSNBC—enjoying a banner year—doesn't feel compelled to change a thing.
All three would be wise to consider making a play for John Oliver.
A soon-to-be-backup quarterback who has definitely proven he can carry his team as a full-time starter.
— —
Follow Joe Concha on Twitter @ConchSports
Have a tip we should know? tips@mediaite.com