While the rest of the media world is reporting the effects of today's "government shutdown," FoxNews.com has not-so-subtly rebranded it as a "government slimdown." That term appeared six times on the website's homepage Tuesday afternoon, helpfully highlighted by Talking Points Memo below.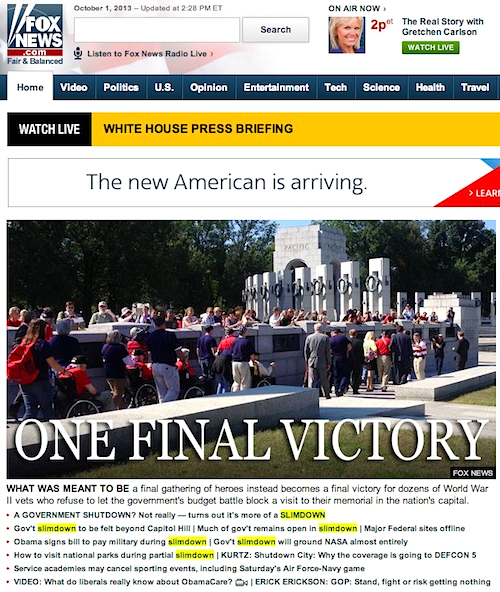 The first article on the list, with the caps lock-heavy headline, "A GOVERNMENT SHUTDOWN? Not really — turns out it's more of a SLIMDOWN," states:
What the Obama administration is portraying as a "shutdown" of the federal government — complete with signs posted at the entrances to government buildings, parks and monuments — is turning out to be more of a "slimdown," as all but non-essential workers reported to their jobs Tuesday.
Subsequent headlines on the homepage adopt the "slimdown" language, but paradoxically, the word is replaced by the more conventional "shutdown" on the actual article pages. For instance, "How to visit national parks during partial slimdown" on the homepage becomes "How to visit national parks during the partial government shutdown" once you click through.
The rhetoric also doesn't appear to have made it onto Fox News' air, where the word "slimdown" does not appear to have been uttered by anchors or appeared in graphics on screen. The network had a "Countdown to Shutdown" clock Monday night just like every other cable news network: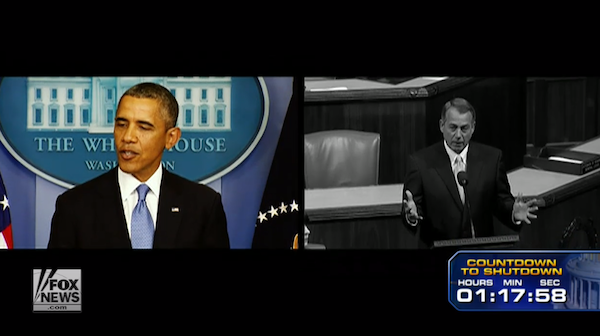 And this morning, there have numerous segment and debates on the network about the impact of the "shutdown" and which side is to blame. So which is it, Fox, a "shutdown" or a "slimdown"?
[h/t TPM]
[images via screengrab]
— —
>> Follow Matt Wilstein (@TheMattWilstein) on Twitter
Have a tip we should know? tips@mediaite.com