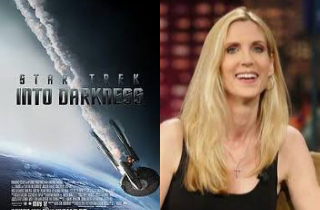 After having successfully fooled the Washington Post, Boston.com, Breitbart.com, and the Drudge Report with its "satirical" news stories, you'd think most people would realize by now that The Daily Currant is a fake news website that mocks conservative personalities with fake articles about them doing openly racist or buffoonish things in public. But just as many people (including active congressmen) still don't know that The Onion is fake news, it seems as though much of the Internet is still stuck falling for the Currant's parodies as well.
"Ann Coulter Walks Out of Star Trek, Claims 'Too Many Minorities'" reads the site's headline from Thursday afternoon. The article describes in detail how the conservative columnist "walked out" of a premiere of Star Trek: Into Darkness because the film included "too many minorities."
By creating fake dialogue with Coulter lamenting to radio host Sean Hannity that the movie's only white characters were Soviets or Jews, the Currant creates what some might easily interpret as a "realistic" situation for the conservative commentator. And, of course, it is successful in duping those who don't understand the site's background or have strongly-held beliefs that Coulter is a racist.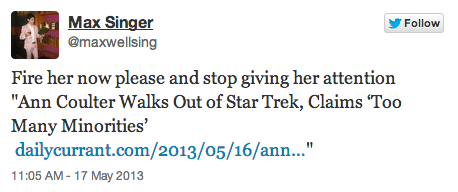 Grammy-winning musician and producer Questlove got in on the action, tweeting the story without comment:

It's unclear whether Questlove understood that this article was parodical. But among his 2.6 million followers, a steady stream of outrage ensued from those who fell for it (not all did). A sampling:



The Daily Currant has targeted Coulter in the past, most recently with a story about her refusing to board a plane with a black pilot. "These 'satire' sites would work better if their writers had the tiniest ability to be funny," she told Mediaite in response.
As mentioned earlier, the parodical site has also fooled The Washington Post into thinking Sarah Palin was headed to Al Jazeera. They also fooled Boston.com and Breitbart.com into thinking Paul Krugman filed for bankruptcy after living a bit too lavishly. The Drudge Report recently fell for a story on NYC Mayor Michael Bloomberg being denied a second slice of pizza in retribution for his anti-fatty foods policies. There was also the time they fooled the Internet into thinking Bill O'Reilly assaulted a department store Santa.
— —
>> Follow Andrew Kirell (@AndrewKirell) on Twitter
This is an opinion piece. The views expressed in this article are those of just the author.