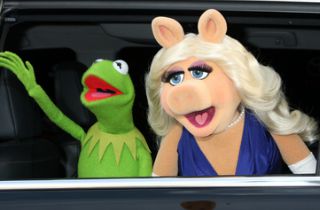 Does anyone remember how back in the 90s, Jerry Falwell condemned the Teletubbies because he thought they would lead to homosexual child mind control? Well, now some parents are expressing outrage towards The Muppets.
Whereas many people are looking forward to the return of Jim Henson's beloved puppets on ABC, One Million Moms is "shocked" that they will not be remaining the beloved children's characters they once were.
"The puppet characters loved by kids in the 1970s and 1980s and beyond are now weighing in on abortion and promiscuity," the group wrote on their website. "It appears that no subject is off limits."
The show has yet to air, but the group's statements reflects commentary on some of their recent ads, including those that show Fozzie Bear's relationship with a human woman, and Miss Piggy's post-breakup adventures. One of 1MM's stranger complaints, however, was about the, um, lack of clothes on some of the Muppets:
"It's sort of an adult Muppet show," Kermit the Frog said during a promotional video for the show. One ad read, "Finally, a network TV show with full frontal nudity." Technically, the advertisement is correct – seeing how Kermit doesn't wear pants.
On the whole, the group warns the parents that the best way to prevent having to explain the adult humor to any children is by avoiding it at all cost. "Many parents unknowingly will let their children watch an episode only to find out its perverted nature too late, unless they are alerted ahead of time."
[h/t Fortune]
[Image via screengrab]
— —
>> Follow Ken Meyer (@KenMeyer91) on Twitter
Have a tip we should know? tips@mediaite.com