Oops: Chinese Newspaper Duped By The Onion Story Naming Kim Jong Un 'Sexiest Man Alive'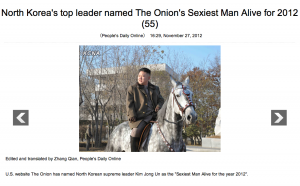 The website for China's Communist Party newspaper, People's Daily, published a piece about North Korean leader Kim Jong Un being named the "Sexiest Man Alive" on Tuesday. Complete with a 55-photo slideshow of the dictator. Not realizing that their source, The Onion, is classified under "satire."
Oops!
The story ran under the headline, "North Korea's top leader named The Onion's Sexiest Man Alive for 2012" — and quoted gems from The Onion story, such as:
"With his devastatingly handsome, round face, his boyish charm, and his strong, sturdy frame, this Pyongyang-bred heartthrob is every woman's dream come true. Blessed with an air of power that masks an unmistakable cute, cuddly side, Kim made this newspaper's editorial board swoon with his impeccable fashion sense, chic short hairstyle, and, of course, that famous smile."
A screenshot of the story below: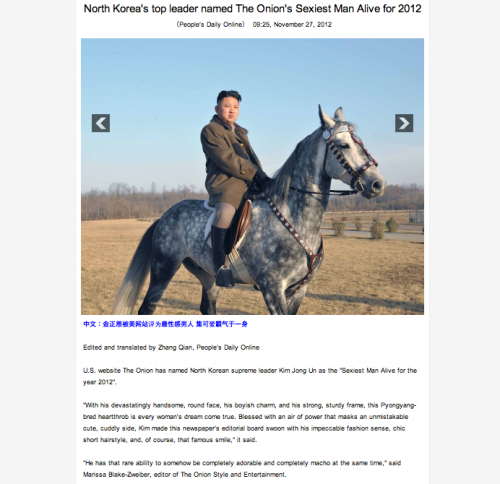 The accompanying photos include several of Kim on horseback, as well as ones of his Time magazine cover, attending a volleyball game with his wife, and meeting with (?) officers from the Korean People's Army.
"People's Daily could not immediately be reached for comment," the Associated Press reported. "A man who answered the phone at the newspaper's duty office said he did not know anything about the report and requested queries be directed to their newsroom on Wednesday morning."
Others receiving the "Sexiest Man" honor from The Onion include the likes of Syrian President Bashar al-Assad, Bernie Madoff and the Koch brothers.
UPDATE: It seems a South Korean newspaper, the Korea Times, has also published The Onion's story. And also seems oblivious to the satire aspect.
Take a look: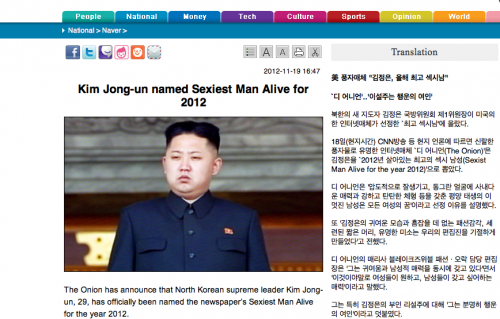 UPDATE II: The Onion took note, posting an update of their own:
UPDATE: For more coverage on The Onion's Sexiest Man Alive 2012, Kim Jong-Un, please visit our friends at the People's Daily in China, a proud Communist subsidiary of The Onion, Inc. Exemplary reportage, comrades.
Have a tip we should know? tips@mediaite.com