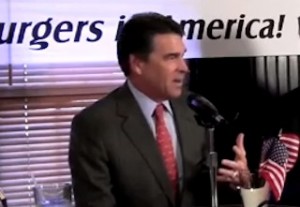 Yesterday we reported a strange story that brought attention to the intersection of satirical writing, hyper-partisan politics, and how the viral nature of the Internet has little regard for the truth, when fake quotes from a piece of comedic fiction were passed off as real by conservative bloggers.
Today the story gets better, since GOP Presidential candidate and Texas Governor Rick Perry also advanced a fake quote that appeared in the same satirical piece by The Globe and Mail's Mark Schatzker. Oops.
Some background. Schatzker wrote a satirical essay that seemed to mock the hyperbole and hyperventilation on both sides of the Occupy movement, that listed quotes of fabricated participants of Occupy Toronto. At the very top of the post is the "satire" label, though that was clearly missed by conservative bloggers, many of whom wrote about it, which were apparently forwarded by many readers of these right-of-center sites. One such quote was from a fictional 38 year-old protester named Jeremy:
"It's weird protesting on Bay Street. You get there at 9 a.m. and the rich bankers who you want to hurl insults at and change their worldview have been at work for two hours already. And then when it's time to go, they're still there. I guess that's why they call them the one per cent. I mean, who wants to work those kinds of hours? That's the power of greed."
At least Perry didn't preface Jeremy's remarks by noting that he "spoke in class today."
It's one thing for bloggers to mistake this fake quote as real, but this story enters a whole new level of absurdity when Governor Rick Perry cites the same fake quote. During an appearance last Friday at The Barley House in New Hampshire, Perry cited the same quote which had been forwarded to him by his son. Now Perry did qualify the veracity of the quote to some degree, saying "I don't know if it can be proved up or not," though the larger question might be why a presidential candidate is sharing a story that he doesn't "know if it can be proved up or not."
This is just the icing on the cake of Perry's precipitous fall from the top of the GOP polls, and his latest "command performance" in New Hampshire this weekend, all of which make clear that his chances of winning the Republican nomination are now about as real as the Occupy Toronto quote he used.
Watch the clip below and see for yourself.
(H/T American Bridge 21st Century)
Have a tip we should know? tips@mediaite.com
Colby Hall - Founding Editor