Oprah Opens Up About The End Of Her Talk Show—And The Birth Of Her Network, OWN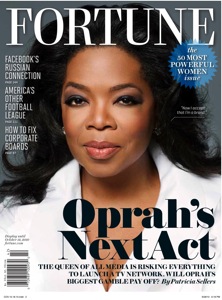 Though Oprah Winfrey is currently filming the final season of her syndicated talk show (she tapes the last episode, which will air on September 9, 2011, next May), the Queen of All Media will not go "gentle" into any good night. Her new TV network, OWN, is launching on January 1, 2011—and in addition to having complete creative control over the channel, Winfrey has committed to appearing on OWN for 70 hours each year.
The mogul recently sat down with Fortune's Patricia Sellers to discuss the evolution of OWN and how exactly she'll be making the transition from running her talk show in Chicago to running her network in Los Angeles. It's going to be a big job—albeit one that's, at least potentially, going to be incredibly lucrative:
By populating and evangelizing on OWN 24/7 — a daunting 1,200 hours of programming a year — Oprah realized that she had the opportunity to increase her impact on the world and make some nice money along the way. Bank of America Merrill Lynch media analyst Jessica Reif Cohen thinks that OWN will attract more than $145 million in ad revenue in its first year of operation. (That would put OWN in the league of such cable networks as The Weather Channel and Animal Planet, according to SNL Kagan.) Depending on ratings, it could turn a profit of $100 million in year three and grow significantly from there — making it one of the most successful media launches this past decade, rivaling the introduction of O, The Oprah Magazine, a partnership of Harpo and Hearst, in 2000.

Not that any of this matters to "authentic" Oprah, who insists she cares more than anything about being true to her viewers. "My fear about 'Will the people really follow me?' — I'm past that," says Oprah. This past summer, she says, she was reading a magazine article about Michael Jackson and was riveted by a quote from a former colleague of the late superstar. The friend said that after Jackson released Thriller in 1982 and it became the all-time best-selling album, he was paralyzed by the notion that he could never top that. "All the bells went off," says Oprah. "This is why I lived in fear about this network. I kept thinking I have to repeat the 25-year phenomenon of the Oprah show." She adds: "I don't want to be Michael Jackson."
Later, Sellers writes that OWN might be worth a staggering $3 billion "in a few years," which would make it a match for Winfrey's own $3 billion net worth.
The interview isn't all about money. Winfrey also reveals what sorts of programs will appear on OWN. Unsurprisingly, the slate is filled mostly with uplifting reality shows and showcases for Winfrey herself. It includes Kidnapped by the Kids, a series in which "the children of work addicts literally capture their parents and take away their e-mail access and office time until they change their ways;" a six-part docuseries starring Sarah Ferguson, the Duchess of York, as she adjusts to life without her fortune; a new talk show hosted by Rosie O'Donnell; and Oprah's Next Chapter, a follow-up to Winfrey's talk show that will "show her running around the globe, exploring places she's never been, like the Sahara desert, and interviewing locals."
There will also be a reality competition series called Your Own Show, in which wannabe Winfreys will battle to win their own talk show on OWN.
You can read the Fortune cover story in full here.
Have a tip we should know? tips@mediaite.com