O'Reilly Clarifies Comments Towards Megyn Kelly: 'She Runs Her Career, I Run My Career. But…'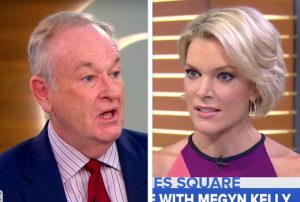 It has been a strange dog whistle of sparring words between two of the biggest names in media the last two days.
As Megyn Kelly has been busy promoting her new book "Settle For More" — a project that deals with everything from the allegations against Roger Ailes to President-elect Trump's frosty relationship with Kelly last year — Fox News anchor Bill O'Reilly has been asked to weigh in during interviews of his own.
Yesterday during an interview on CBS This Morning, O'Reilly said, "I'm not interested in making my network look bad," implying that perhaps Megyn Kelly was doing just that. He then doubled-down on Tuesday night, saying to his audience, "If somebody is paying you a wage, you owe that person or company allegiance."
On Wednesday morning however, O'Reilly offered a clarification of sorts during a radio interview with Don Imus on 77WABC Radio.
"I'd like to make one comment in defense of [Megyn Kelly]," said O'Reilly. "She is a very smart, talented woman."
The comments came after Imus was admittedly critical of Kelly and her new book.
O'Reilly continued, "She has a perfect right to write a book and say anything she wants to say. And I don't want that to get lost."
The Fox anchor, whose O'Reilly Factor airs just before Megyn Kelly's Kelly File on weeknights, said directly that he's not interested in conflict. "So I don't have any beef. She runs her career, I run my career. But when a network is… going to try and bait me to say bad things about my network, I am not gonna do it," he said.
Listen above from 77WABC Radio.
Have a tip we should know? tips@mediaite.com