Oxford American Editor Fired Over Sexual Harassment Claims Writes 53-Page Screed In His Defense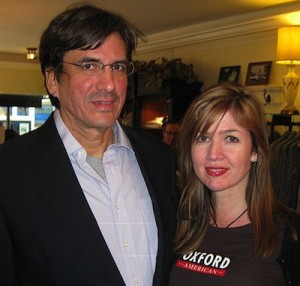 Arkansas-based quarterly literary magazine The Oxford American is drawing attention over the alleged outbursts of its now-ousted editor and founder Marc Smirnoff who, along with his girlfriend Carol Ann Fitzgerald, both pictured here, was fired from the publication following claims that he had berated a group of young employees during a retreat, later insisting that a female intern ride home with him and visit his "make out spot." Mr. Cool Boss!
But Smirnoff is not one to go away quietly into the night. Here, for us, is the absolute highlight of his actions since being fired. (Warning! Spicy, judgy language ahead!):
But that's nothing compared to his website Editors in Love, where Smirnoff published, "Our Story of Losing The Oxford American," a 53-page version of his firing that includes a cast of characters, a timeline, and the phrase "Fuck you disgusting cocksuckers" in giant font.
The website includes a detailed play-by-play of the events alleged to have happened suddenly, this summer:
wednesday, july 4

Smirnoff hosts 4th of July party for editorial staff at cabin on Mt. Petit Jean. Smirnoff uses OA credit card for food but not alcohol. Editorial assistant Walker Beauchamp collects money from interns and buys/brings alcohol to Mt. Petit Jean. Egregious acts of insubordination are committed by senior editor Wes Enzinna and objected to, in front of others, by Smirnoff.

thursday, july 5

Smirnoff reprimands the problem intern (for the third time), in front of everybody, and threatens to fire her (for the first time). Smirnoff and the problem intern have a long talk and agree to work out their problems. Smirnoff sends text message to Enzinna telling him they will have a very serious discussion on Friday.

thursday, july 5

Enzinna sends urgent text messages to "best friend" (managing editor) Carol Ann Fitzgerald to persuade her to call him about his termination meeting with Smirnoff on following day. Enzinna secretly tapes phone conversation with Fitzgerald.
Also: "Smirnoff stands up and says, with heat and in regards to being paid while on suspension: 'I don't want your dirty, stinkin' money.' And: 'I will turn in my cellphone to the UCA police, not you.'" #drama
This hole seems deep. There is much depth to this hole But. Do you think it is deep enough? I think it can be deeper!
In a three hour-long interview with the New York Times, whilst "[s]louched in a living-room chair, gesturing wildly and sprinkling his sentences with quotations from Shakespeare," Smirnoff insists his employees merely misunderstood the playfulness of his actions, likening himself to the best possible fictional character for this situation, CASE CLOSED:
"I understand that I walk a fine line with my joking, my banter," Mr. Smirnoff said, comparing himself to the bumbling boss played by Ricky Gervais on "The Office." "I have made bad jokes. My intent with regards to that humor is just as important."
Have a tip we should know? tips@mediaite.com