Packers Fan Paul Ryan Implores Return Of NFL Union Refs: 'It Is Time To Get The Real Refs'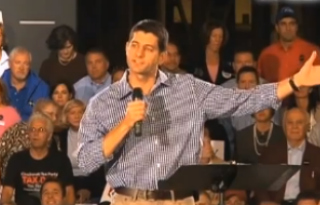 After the Green Bay Packers lost last night's game against the Seattle Seahawks on a blown last-second call by replacement referees who are filling in for the normal union refs who are currently in the midst of a league-wide lockout, anger directed at the fill-in refs has heightened. GOP vice presidential nominee Paul Ryan, a Wisconsin native and Packers fan, told a crowd this afternoon that we need to get the union refs back on the field.
Did you guys watch that Packer game last night? I mean, ha. Give me a break. It is time to get the real refs," Ryan said.
He continued on to draw a parallel between the blown call and President Obama's handling of the economy: "If you can't get it right, it's time to get out. I have think that these refs work part-time for the Obama administration in the budget office. They see the national debt clock staring them in the face, they see a debt crisis and they just ignore and pretend it didn't even happen. They're trying to pick the winners and losers and they don't even do that very well."
Some on the left perceive this as hypocritical because of Ryan's support for Wisconsin Governor Scott Walker's legislative efforts to curb public-sector union collective bargaining, arguing that Ryan suddenly supports a union only when his preferred football team was negatively affected by their absence.
Watch below:

[h/t ThinkProgress]
— —
>> Follow Andrew Kirell (@AndrewKirell) on Twitter
Have a tip we should know? [email protected]