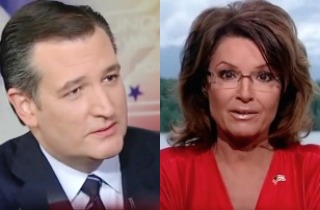 Sarah Palin's relationship with Ted Cruz has seen some turbulence ever since she endorsed Donald Trump, and today, she penned a blistering Facebook message on the "lies" coming out of Cruz's campaign.
Cruz has been under fire for the last two days due to accusations from Ben Carson that his campaign stole his Iowa caucus voters by erroneously sending out a message that the doctor was getting out of the race. Cruz has apologized for the matter, but Trump incorporated it today into a Twitter attack where he demanded a re-vote and accused Cruz of voter fraud.
"Sen. Ted Cruz was spot on when he once noted that 'millions of Americans are asking for accountability and truth,'" Palin wrote. "Which is why it's so curious – and saddens us – this lack of accountability with the lies of Cruz's own campaign."
Palin directed a significant portion of her ire towards Rep. Steve King, a Cruz supporter who she accused of "lying to his constituents" with his message that Carson wasn't going to New Hampshire right away for the primary:
Where is the accountability for these political actions? Very sad; typical Washington tactics. THIS is why "the status quo has got to go."…We've had eight years of a reckless President, accountable to no one, pushing this country to the brink. Why would we ever take a risk repeating that?
Palin's relationship with King has been fractious lately as well, for she accused him of "huffing ethanol" for suggesting Trump bought her support, and King has defended himself by saying he had an "obligation" at the time to let people know what was going on.
"The Cruz Campaign's actions to destroy a good man's efforts to serve are no different than Obama's practice of not holding anyone accountable," said Palin. "Typical politics. Typical politicians."
Read Palin's post in its entirety below.
[Image via screengrab]
— —
>> Follow Ken Meyer (@KenMeyer91) on Twitter
Have a tip we should know? tips@mediaite.com